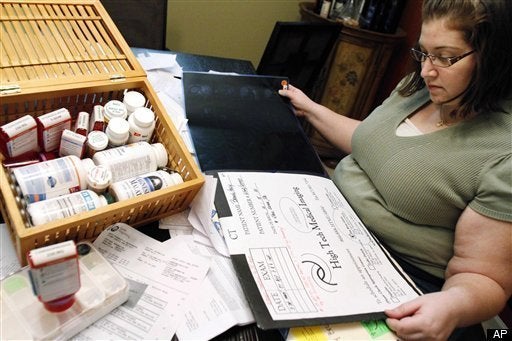 While the national unemployment rate has been hovering at about 9.5 percent for the last year, the average cost of health care plans for jobless Americans is steadily on the rise.
Terminated workers are paying an average of $429 a month this year for individual HMO coverage, compared to $399 for the same coverage in 2009, according to a survey conducted by Aon Consulting. COBRA coverage for an entire family now costs an average of $1,251, up from $1,171 per month at this time last year. With COBRA costs on the rise and the average unemployment check totaling less than $300 a week, a growing number of jobless Americans are no longer able to afford their health insurance plans.
Dianna Walker, 41, of Clearwater, Florida, said she and her husband have been struggling to afford COBRA since she was laid off on June 3, three days after the COBRA subsidy expired.
"We are charged $884 per month for COBRA," Walker told HuffPost. "Try paying that with a $240 unemployment check."
Walker said her husband has a pre-existing health condition that requires up to $1,000 per month in medications, but he doesn't qualify for the government's new Pre-Existing Condition Insurance Plan because he hasn't been uninsured for more than six months. HuffPost's Arthur Delaney recently reported that only 1,200 people have been approved so far for the PCIP program, whose steep premiums ranging from $140 to $900 a month make it no more affordable than COBRA for many unemployed Americans.
Walker said COBRA is draining her savings, but she and her husband are out of options.
"We just missed our first mortgage payment ever," she said. "I have checked into all the new options from Obama's new health care reform and it is next to impossible to qualify. And if you do, it is very little coverage and costs more than COBRA without the subsidy.
John Zern, executive vice president and Health & Benefits Practice director with Aon Consulting, said the costs of COBRA are rising because so many people are using the system.
"The increased frequency and duration of COBRA use is creating a significant strain on the program, leading to higher costs," he said. "Those who are unemployed, and facing uncertainty about employment prospects and future COBRA availability, are utilizing the program more than we've traditionally seen to treat a variety of conditions prior to potentially losing coverage."
Current employees should also expect to see their plans become more expensive in the next couple of years as employers shift the costs over to them. The Aon survey found that 65 percent percent of employers plan to increase cost-sharing in 2011 for deductibles, co-pays and out-of-pocket maximums, and 57 percent of companies polled said they will ask employees to contribute more for the overall cost of health care next year.
A summary of the "2010 Benefits Survey" and information on how to obtain the full survey is available at http://aon.mediaroom.com.
Related
Popular in the Community