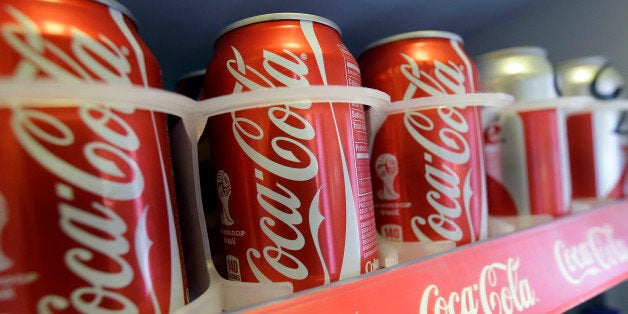 Voice mail is dying, and the world's largest soda maker just pounded another nail in its coffin.
As of last month, most employees at Coca-Cola's Atlanta headquarters and its technology plaza nearby no longer have access to voice mail on their office phones. The soda giant gave workers the option to shut off their voice mail with the goal of "changing the tools and methods in which we communicate as a company," Amanda Roesster, a Coca-Cola spokeswoman, wrote in an email. Just 6 percent of workers opted to keep getting voice mails, she wrote.
With the change, Coke is one of the first big companies to publicly catch on to the reality that checking your voice mail is a waste of time because if the message is important the caller will email, text or call you back. Michael Schrage, a research fellow at MIT Sloan School's Center for Digital Business, called Coke's move a "no-brainer."
"This is inevitable; corporate voicemail is to the 21st century what the telegraph is to the 20th century," said Schrage, who wrote a 2013 post on the Harvard Business Review's website called "Time to Hang Up on Voice Mail." "Something that was once seen as valuable and indispensable is now seen not only as worthless, but as so inefficient it must be removed."
A growing number of Americans have already realized this. Just one-third of workers listen to voice mails from business contacts, eVoice, a virtual phone service provider, found in a 2013 survey. About the same share of respondents listen to voice messages from a spouse or significant other. Between October 2013 and April of this year, voice mail messages dropped 8 percent, according to data from Vonage cited by The New York Times.
The youngs, who are often better at socializing through texts, Tinder and Twitter than with their faces or voices, are leading in this frontier. Just 26 percent of teens used their cell phones to actually talk with friends daily in 2012, down from 38 percent in 2009, according to a March 2012 survey from Pew Research.
It's true that there are a few downsides to favoring text over voice mail, like the fact that tone can be misinterpreted. But for the most part, the kids are probably right. Leaving and retrieving minutes-long messages is a time suck, particularly when the same information can be delivered easily in text form. Coke's chief information officer, Ed Steinike, said as much, writing in an internal memo obtained by Bloomberg News that getting rid of voice mail will "simplify the way we work and increase productivity."
It also increases accountability, according to Schrage. Corporate phone systems are often complicated, which means retrieving a number to return a missed call can take so much time that many employees just don't bother. By pushing the caller to communicate another way (either email, text or a cell phone call) workers are more likely to know who dialed them.
Schrage also explained that some less exemplary employees rely on the fact that people don't check voice mail. They'll leave a message about a topic that might make the recipient angry, knowing the recipient won't listen to it, but they have a trail of evidence that they tried to get the information across in case they get in trouble later.
"This is going to eliminate one of the biggest cover-your-ass tactics that too many people have been too fond of for too long," he said. "That kind of refuge is gone."
Many companies that haven't taken Coke's drastic step of eliminating voice mail altogether have systems in place -- like sending workers an email or text with the content of their messages -- to help employees get around listening to voice mail.
In addition to boosting productivity, getting rid of the obsolete service can help a company's bottom line. But saving money isn't the main goal of the program, and Coke expects to save less than $100,000 a year by turning voice mail off, Roesster wrote in an email. The company, which reported a 14 percent drop in profit last quarter, is trying to save $3 billion a year by 2019.
Related