Wednesday, 70 to 100 activists gathered under Coca-Cola's iconic Times Square sign in New York City for a protest rally. "By sponsoring the 2014 Winter Games in Sochi, Coca-Cola is associating its brands with state-sanctioned gay-bashing," said Queer Nation NY co-founder Alan Klein. "Coca-Cola is sacrificing the safety and security of Russian LGBT people for profit -- a position that opposes fundamental Olympic principles, runs counter to the International Olympic Committee charter, and that will tarnish its global image for decades to come."
Primarily activists are calling on Coca-Cola to abandon its multimillion-dollar sponsorship of the Sochi Winter Games in response to escalating human rights abuses made by the Russian government against the country's LGBT citizens. Within hours the Coca-Cola Corporation had released a fresh statement on their sponsorship of the games, which reads a lot like the one they released two weeks ago.
Queer Nation NY was unimpressed and reiterated its original request of Coca-Cola.
Chris Geidner of BuzzFeed checked in with the major Olympic sponsors two weeks ago noting they all seemed "eager to avoid" these difficult questions; a handful had no comment and many others "...provided BuzzFeed with statements that were similar to one another -- down to the adjectives used, suggesting coordination among the sponsors or directly from the IOC itself -- and which back the IOC's cautious engagement."
Missing from Coke's statement Wednesday were assurances that Russia's draconian law would not affect those participating and attending. That seems to be a talking point that has been retired, perhaps because it's been contradicted so many times directly by the Russian government itself.
There is one piece of new information to be gleaned from Coke's announcement yesterday: "We are engaging with the International Olympic Committee on this important matter."
On August 22, the IOC released a statement that had a definite air of finality about it. They had received written assurances and the IOC was confident there would be no "discrimination." It seemed to them the topic was closed for discussion, the IOC's hands were washed clean of the whole mess. (Within hours the Russian government had announced even more draconian crackdowns on citizen's right to assemble, protest and demonstrate.)
The IOC also refused a request from the Washington Blade to share the letter in its entirety. It seems there was a reason for that. The Associated Press reported on the same letter and had a very markedly different take on it. Let's compare, shall we?
IOC headline: "...everyone will be welcome at the Games in Sochi regardless of their sexual orientation."
AP headline: "Russia defends anti-gay law in letter to IOC."
Two very different takes on the same story.
Let us take Coca-Cola's word at face value and assume it is in fact still "engaging with the International Olympic Committee on this important matter" and not just trying to wave away an awkward PR crisis.
Hopefully, soon Coca-Cola and the International Olympic Committee will have news to report back to the LGBT community on their latest engagement talks on this important issue.
Should the community give Coke a week to engage the IOC further and expect to hear more on this issue? Queer Nation NY will be having a Russian Town Hall meeting Wednesday, Sept. 4 at the NYC LGBT Community Center. It would be great if Coke could provide a progress report by then.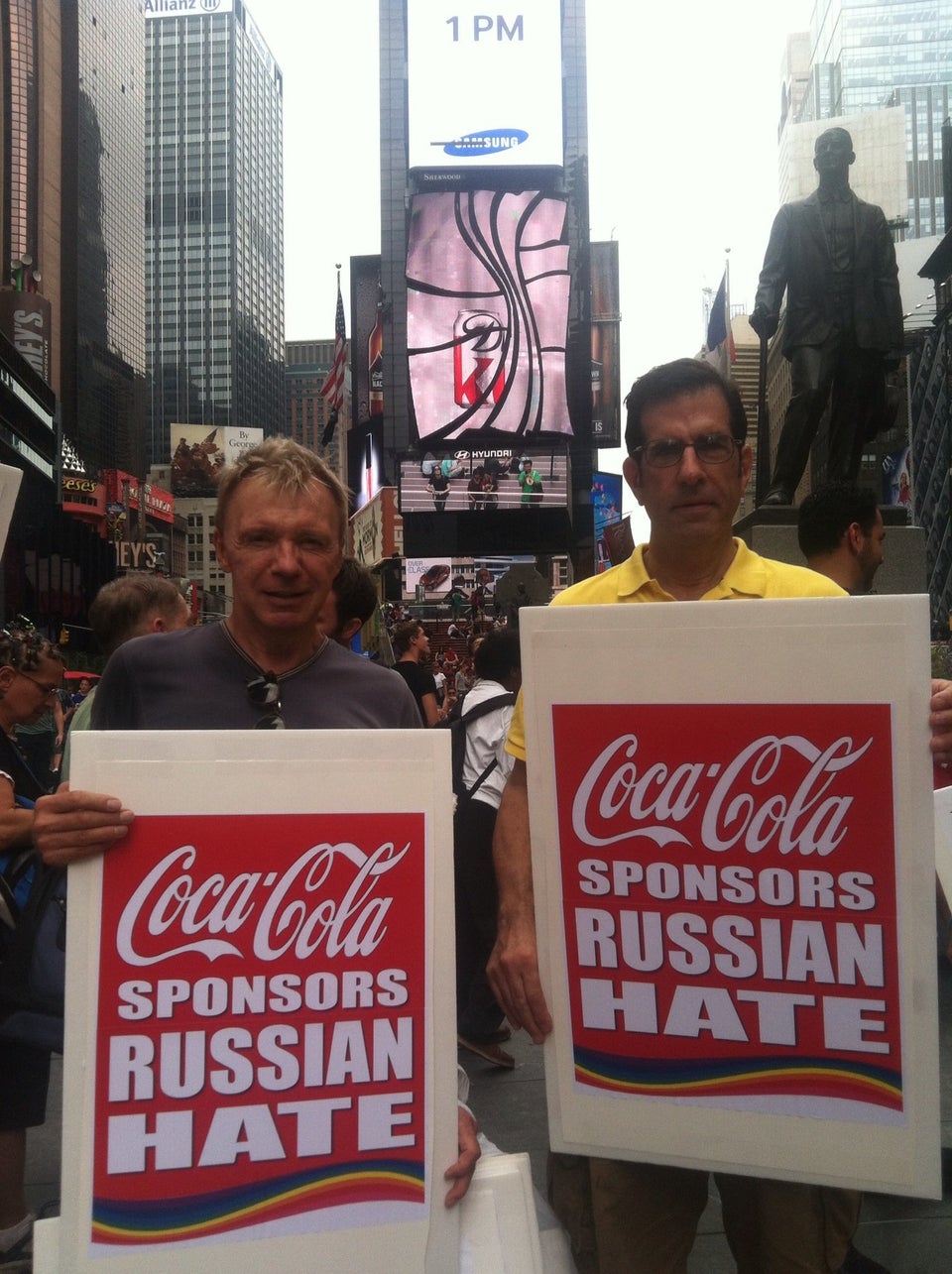 Russian Olympics Coke Protest
Popular in the Community