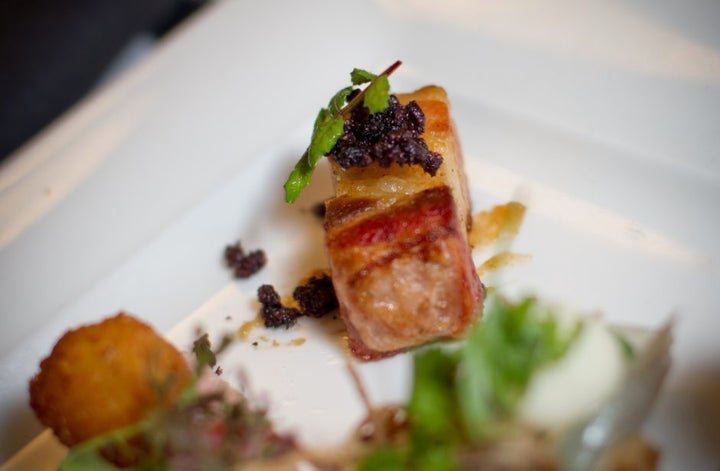 In San Francisco, you aren't a chef until you get your pig tattoo.
This might be a slight exaggeration, but there's no denying that pork has been the new black for quite some time. And no event celebrates the plat du jour quite like Cochon 555, the Olympics of pork.
(SCROLL DOWN FOR PHOTOS AND VIDEO)
Founded in 2009, Cochon 555 is a national tour that aims to increase consumer education and support local farming and butchery. At each stop, Cochon brings together five chefs to cook five whole heritage pigs in five dishes. Five winemakers provide the pairings.
And last weekend, San Francisco got its turn.
"Cochon is one of my favorite events in the city," said Locanda chef and competitor Anthony Strong to The Huffington Post. "We didn't really know what we were getting ourselves into, but it was a riot."
At this year's event, Strong competed against Traci Des Jardin of Jardiniere, Jason Fox of Commonwealth, Nicolas Borzee of Bouche and Thomas McNaughton and Matt Sigler of Salumeria. The event also included a whole hog butchery presentation by San Francisco's nationally recognized Dave "The Butcher" Budworth.
While dishes did include classic interpretations like Jardiniere's carnitas sandwich, the menus generally leaned towards more avant garde preparations like Salumeria's broth, cracklings and brain aioli, Bouche's head cheese, horseradish foam and walnut oil and Commonwealth's pig's blood macaroons.
Judges sampled 25 dishes throughout the day, but at night's end the prize went to McNaughton and Sigler of Salumeria. Their dessert--a pork "s'more" with graham cracker, lard caramel and pork belly marshmallow--was a crowd favorite. The pair will go on to compete at the Grand Cochon at the Food & Wine Classic in Aspen.
San Francisco was the last stop on Cochon's national tour, after competitions in New York, Memphis, Portland, Los Angeles and other cities across the country. During the eleven-city stop, Cochon served 7,000 cocktails and 12,250 pounds of pork, while raising more than $15,000 for local schools.
"One event cannot change the entire food production system (not yet, anyway), but we can celebrate people who are favorably tilting the scales back towards local producers," he said.
Check out photos from the event, courtesy of Jonathan Fong, in the slideshow. Then, watch Cochon 555's trailer below: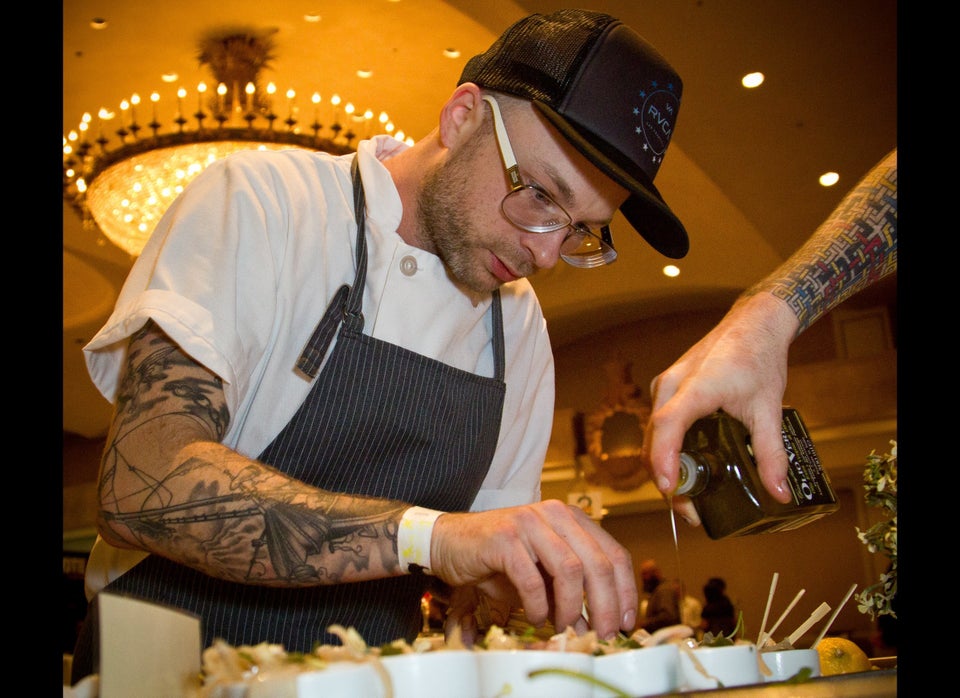 Cochon 555 San Francisco
Related
Popular in the Community