Fall's intoxicating. Just when your flip-flops are starting to fall apart, it's time to return to grownup glamour and the colors of autumn. Dig out those great ankle boots, grab a scarf and your new military inspired jacket, and get ready to meet friends for cocktails!
While Fashion Week came and went faster than a Chanel bag at a sample sale, I love fall for taking a fresh look at your closet and your cocktail couture.
For great ideas to spice up your Fall wardrobe, I'm craving the new vogue.com. As the hues change from summer's bright citrus to plums and earthy tones, cocktails change too. Just like the perfect camel coat, there are key staples for your cocktail wardrobe that you need to have ready to kick off the season with a bang. So what's the hot new trend? Two of my favs to get your cocktail fashion fix are Prosecco and Avion Tequila.
Just as we're seeing a lot of military details this season, there's also been a real resurgence of bubbles. A true classic, they're always in style. And this year, it's all about Prosecco. It's easy to mix and perfect to pour, so keep your cocktail closet stocked. At the moment I love Prosecco with a bit of pear or St-Germain liqueur, just enough to give this bubbly a kick and a permanent spot in your closet. It's also a perfect topper for an assortment of brandies - think apricot, raspberry or plum. Fall Fabulous!
Avion Tequila is also quickly becoming the rage thanks to a starring role in HBO's hit Entourage with Adrian Grenier's Vinny Chase and the gang. As Turtle and Drama were pouring shots poolside, bartenders in NYC and LA started doing the same. With both coasts covered, look for Avion to make a VIP appearance at your local hotspot soon.
While last weekend's season finale left Avion on the rocks, this smooth tequila is sure to make a splash until the series returns. Whether straight up, with a kick or in your favorite marg, look for Avion to match perennial favorite Patron shot for shot for the title of "must have" tequila this season.
Here's an easy Prosecco pleaser. And for some other great cocktail recipes to add to your couture collection, visit me!

Prosecco Pearfecto
4 oz. Belle de Brillet pear liqueur
1 bottle Prosecco
Pear slices for garnish

Pour a splash of pear liqueur into the bottom of each glass, top with
Prosecco, garnish with a sliver of pear and serve. www.colleenmullaney.com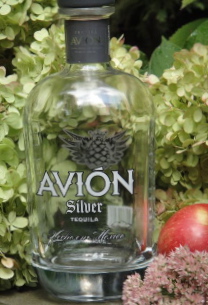 Calling all HuffPost superfans!
Sign up for membership to become a founding member and help shape HuffPost's next chapter