Everyone loves a good cocktail party -- cocktails and conversation -- what's not to love?
When it's your turn to host, don't panic. Below you will find everything you need to host the party of the season -- and do it confidently and worry-free. You'll be so relaxed at your own party that you will have as much fun as your guests!
1. Have enough liquor on hand. Short of a barroom brawl, there is no quicker way to kill the party mood than to run out of alcohol. As a general rule, you get 5 to 6 drinks from a bottle of wine or champagne. For mixed drinks, you can plan on about 16-17 drinks per 750 ml. bottle. Expect that guests will drink 2 drinks per hour for the first hour, then one per hour thereafter. Keep your guests in mind when ordering the quantity; get more of what you think they'd like, then get extra! In most cases, the liquor store will take back what you don't use.
2. Be considerate of guests who don't drink. You will always have guests who are not coming for the cocktails, but for the company. Make sure to have a non-alcoholic beverage for them. Your guests will appreciate your thoughtfulness.
3. Consider whether you need a bartender. For anything other than a wine bar, you will likely need one. A bartender can monitor the amount of liquor being consumed, keeping your guests safe and your costs down. If you can't afford a bartender, wrangle a friend -- just keep the drinks simple. Consider a pre-made drink that can be made ahead of time. (Get a 'big batch' recipe for the Best Ever Sangria here. ) Having help will also allow you to mingle freely with your guests with no worries.
4. Serve some food. Your guests need (and expect) more than nuts! As your guests drink, they will need something on their stomachs to absorb the alcohol. I would recommend that at least one of your food items be bread based. Individual serving foods that can easily be eaten with one hand are optimal. Spaghetti at a cocktail party -- not a good idea!
5. For wines, do a 5 to 6 oz. pour. Your goal is to get your guests relaxed and sociable -- not drunk. A 5 to 6 oz. pour will give your guests enough so that they don't have to keep going back to the bar for refills, but not so much that they feel challenged to finish it.
6. Have plenty of ice on hand. You will need ice to serve in drinks, as well as to keep the beer and wine cold.
7. Be ready for red wine spills -- it's gonna happen. Have a clean up kit ready and you can quickly save the day. If you don't want to risk it, serve clear or less damaging cocktail options.
8. Have the right kinds of glasses -- and enough of them. There are so many glasses that you might use for a cocktail party, depending on what you are serving; white wine, red wine, martini, highball, champagne, margarita, and the list goes on. Think about what you are serving and have the correct glasses on hand. You will need approximately 1 glass per guest, plus a 20% overage. There is no shame in renting what you don't have. If you'd like to minimize your glass usage, provide wine glass charms.
9. Have coasters and napkins readily available on/near treasured furniture pieces. Guests want to be respectful of the furnishings, you simply need to provide the tools. It's okay to walk around with a few extras in your hand, politely offering them to offending guests.
10. Make sure to have tables or furniture where guests can rest their plate or drink. Cocktail parties always present a dilemma. If you eat, you need somewhere to place your drink; if you drink, you need to put down your plate. Unless you have those cool dishes that allow you to hook your glass onto the plate, make sure there is ample 'surface' space to rest glasses and plates.
Extra Tip.....
Be a responsible hostess and have coffee available for your guests at the end of the night.
Have a great party!
Comment if these rules were helpful.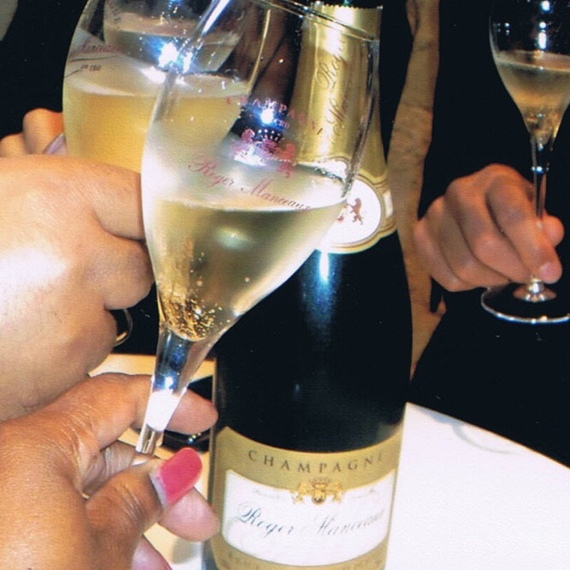 GraciousLivingGuide.com provides inspiration, tips and support to elevate your life experiences and help you live a life you love. Topics include travel, entertaining, life hacks, product reviews and much more.
Popular in the Community