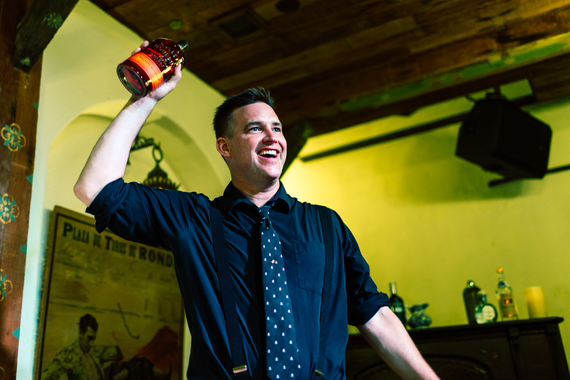 What is it about enjoying a good cocktail that makes us feel so at ease? I suppose it has something to do with us being able to relax, no matter how bad we need that drink, and just get lost in the libation's calming taste. Cocktail craftsman Rob Floyd takes that sensation even further with his drinks, especially when it's part of his rousing Cocktail Theatre where good drinks and good tales combine to bring your cocktail to life.
For anyone not already familiar with Rob Floyd, he is considered by many to be one of the best mixologists in the country. He's helmed top cocktail programs at many leading bars, including The Bazaar by Jose Andres, where he ran America's best molecular bar, as well as Chateau Marmont and The Library Bar at The Roosevelt. Indeed, cocktails and especially his Cocktail Theatre are near and dear to Rob's heart.
"I've been doing this for 22 years," the affable Floyd says.
I always felt that stories of cocktails, or if you're at a cocktail bar and someone is looking down on you because they're a mixologist, take away the celebration of humanity for me. The whole point for me and the love it and the love of storytelling comes from sharing those moments, and all of a sudden I felt there was a way to do it where it could be really fun and cutting edge and make people have a great time, as opposed to people drinking to get drunk or people looking down on it.
And what is cocktail theater you might ask? It's appreciating the art and craft of cocktails via the charismatic Rob Floyd and his cast of zany characters, including luchadors and male fairies, as guests get Rob's take on cocktail history (why let a good tale get in the way of facts) while they enjoy world class cocktails in a pure fun/no-frown zone. Rob has taken this show on the road, selling out venues wherever he goes (there's even talk of Mexico and Japan in the near future). In Los Angeles, he's set up shop at members-only 41 Ocean Club in Santa Monica where he currently runs the cocktail program, although his cocktail theatre evenings are open to the public.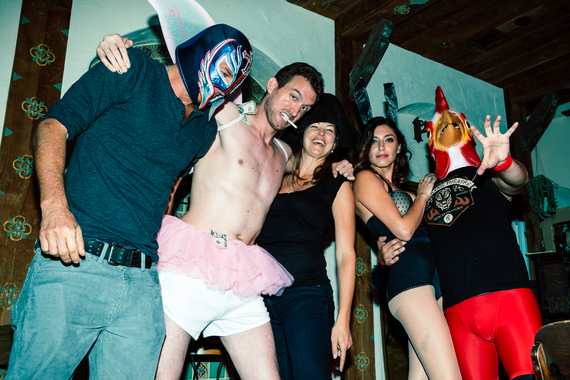 Due to popular demand, there will be two Cocktail Theatre performances this month as Rob mixes cocktails with his Kama Sutra -- Eyes Wide Shut Edition at 41 Ocean Club on Friday, August 22 and 29. These evenings should prove to be a boozy and daring adult-oriented good time where all kinds of secrets will be revealed. In fact, this one-of-a-kind education tasting series is part cocktail show with elements of History Channel meets The Rocky Horror Picture Show. In Rob's words, this edition of Cocktail Theatre will be "an exploration of the palate from sensual profiles derived from India, from 5,000 years ago to present day."
In fact, ask Rob about cocktail secrets and he's giddy to talk.
What's the secret to a great cocktail?
"Taste, technique and tale," Floyd says without hesitation.
Anybody can make you a cocktail that tastes good but for me, a great cocktail has to be the experience of making it with or for somebody. You have to have great taste first of all, somebody that doesn't like spice and you're making them a spicy cocktail, you're already at strike one. So you have to understand the palette that you're going for, then you add a great taste on there, and then you move to technique, whether it's shaken or stirred, then you go onto the tale. And whether you're working with a martini or if it's a Jose Andres' liquid nitrogen cocktail, you have to have the story behind it. For me, it's never a story, because everybody has a story, it has to be a secret because secrets are things that we love and can't wait to share or whisper, and that's that human part of the connection of the cocktail.
What's the secret to a great cocktail event?
"I like to keep it unexpected and fun," Floyd explains.
We're all on this train and we're all taking a ride together and we're getting off in an hour and a half and it's going to be a fun time; not that you're going to get hammered because a lot of it deals with tasting but you're going to have a great time with that.
With such a vast knowledge about cocktails and its history, I was curious to know if Rob remembers his first ever cocktail, and of course he does.
"It was a Manhattan made by my dad. He made the best Manhattan, and just before he would hand it off, he'd always stir it with his finger to check the temperature."
One of nine children and the son of a doctor father, Rob's charisma (he's part drink guru and part used car salesman showman) was born from his father's dinner table. And ever since, he's been amped and ready to give his guests the best possible drink and story imaginable. So it makes me wonder, is Rob Floyd a bartender or mixologist? He's ready with his answer.
Mixology is to bartending what cliff diving is to the springboard at the local community pool. The springboard is a lot of fun and you can get a Jack and Coke anywhere, but when you can get an experience with that drink, and that's what mixology is to me, it's not only making a great drink but having that customer service nobody else can provide -- it's having that secret that nobody thought of. It's taking a look or a twist on something that is unique.
And just like Rob, his drinks at 41 Ocean Club may look casual but there's a complexity there that's second to none, especially with his Pina En Fuego, and Smoking Gun cocktails.
"I wanted to address farm to table," Floyd says of his 41 Ocean Club cocktails,
so instead of going molecular, and because Santa Monica has a real freshness to it, what I did was just design five cocktails on the menu that can be switched out or balanced with any spirit. So they're interchangeable and these five cocktails can really be 20 or 25 cocktails and it empowers the mixologist behind the bar to plug in different spirits and work with it that way. I wanted to get back to the base of having a great balanced drink and a great experience and being able to use beautiful fruits and vegetables across the bar.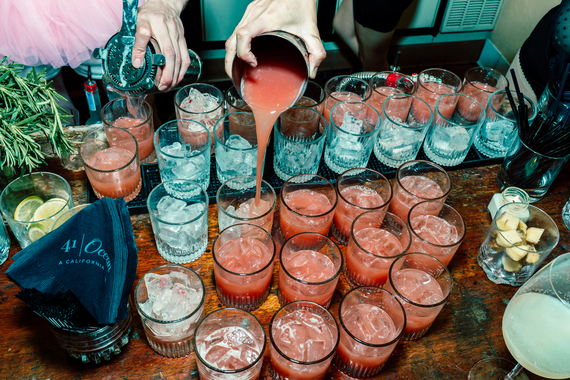 A fan of the drinks at The Library Bar and Melrose Umbrella Company, it's hard to ever see Rob Floyd not at breakneck pace -- personally I've only seen him in go-go-go mode. And maybe that's why his events are never dull.
So what kind of spirits can guests expect at the Kama Sutra Cocktail Theatre?
We'll have pisco because I feel it's on the rise again. It's a sexy drink but often misunderstood because people only think of it as a sour with the egg white. There are a lot of things you can do with pisco. We're going to make a German punch and light it on fire. The Kama Sutra is all about passion and love.
Between Rob's exuberance and his tongue and cheek showmanship, not to mention quality drinks, what can guests really expect at Cocktail Theatre?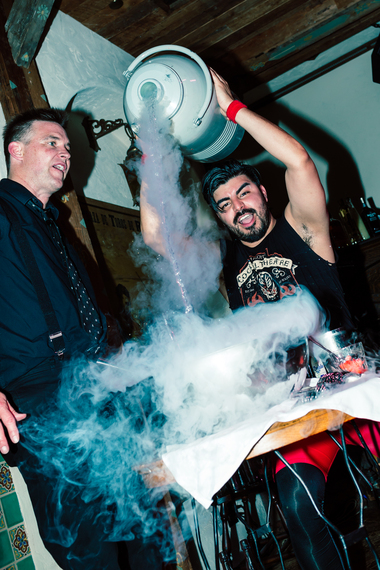 That it is a real experience -- for me, drinking, whether we're at a wedding or bar miztvah or graduation, we always toast but it's never just about what's in that glass or getting drunk, it's the experience that transcends time for me.
Rob Floyd's Cocktail Theatre takes place August 22 and 29 at 41 Ocean Club, located at 41 Ocean Ave in Santa Monica.

Support HuffPost
The Stakes Have Never Been Higher
Related
Popular in the Community