The 19-year-old Florida native was asked during a post-match press conference to share her thoughts on the protest, which took place in the stands of Arthur Ashe Stadium in New York City. She told reporters that she thought the demonstration was an example of the many "defining moments" of protest throughout history.
"I believe in climate change," she said. "I don't really know exactly what they were protesting ― I know it was about the environment and I 100% believe in that. I think there's things we can do better. I know the tournaments are doing things to do better for the environment."
"Would I prefer it not happening in my match? 100%, yeah," she continued. "I'm not going to sit here and lie. But, you know, it is what it is."
Gauff later emphasized that although she wished the demonstration hadn't happened during her match, she wasn't "pissed" at the protesters.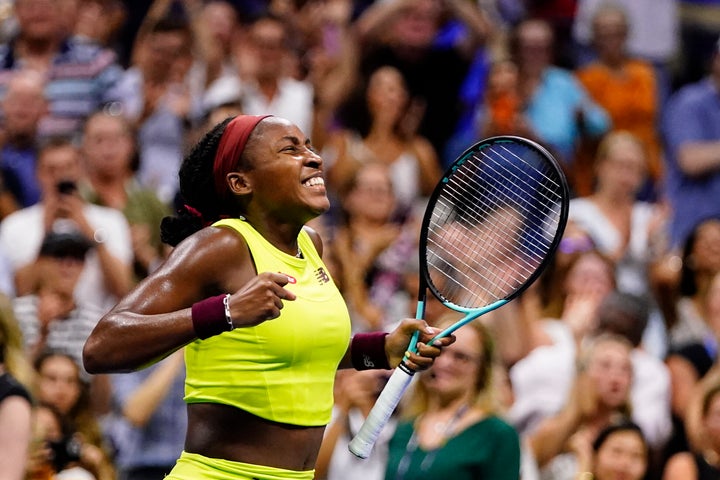 "I always speak about preaching about what you feel and what you believe in. And it was done in a peaceful way, so I can't get too mad at it," she said.
She added, "But hey, if that's what they felt that they needed to do to get their voices heard, I can't really get upset at it."
Gauff was leading 1-0 in the second match when the match was stopped and delayed for approximately 50 minutes due to the protest.
Three environmental activists stood up in the stands and chanted, "End fossil fuels," wearing shirts that said the same. One protester glued his bare feet to the floor. The crowd loudly booed the demonstrators.
The U.S. Tennis Association said in a statement that four activists were taken into police custody, and that the NYPD and medical personnel were needed to safely remove the person who glued his feet to the floor, the Associated Press reported.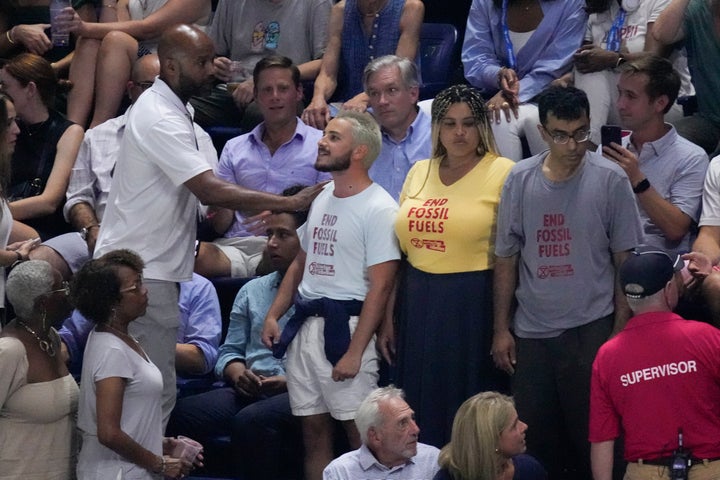 One protester, who identified himself only as Ian, told the AP that the group believes the tournament has sponsorship deals with companies whose policies contribute to global warming.
"We are not trying to harm the athletes in any way. We have nothing against the sport," he said. "But we are really trying to draw attention to an issue here that there will be no tennis left for anybody in the world to enjoy."
Gauff ultimately defeated Muchová and advanced to the U.S. Open final for the first time. She is set to play Aryna Sabalenka of Belarus in the final on Saturday.
Osaka, who gave birth to a baby girl in July after stepping away from tennis last year, told ESPN on Wednesday that she hopes her daughter will one day look up to Gauff.
"She seems like such a good person," she said about Gauff. "And just everything that she's doing and speaking out about so many different topics — it's something that I would love my kid to look up after her as a role model."
Support HuffPost
The Stakes Have Never Been Higher
Popular in the Community