Everywhere Varla Jean Merman and Coco Peru go, fans ask about the sequel to their iconic 2003 feature Girls Will Be Girls. Though the follow-up to the side-splitter is filmed, neither drag superstar knows exactly when to expect it in theatres.
"Hopefully it will come out soon," Merman said in ever-optimistic fashion during an interview with Party Foul Radio with Pollo & Pearl, "It was called Girls Will Be Girls 2012...If it doesn't come out soon, it will have to be called Girls Will Be Called Golden Girls!"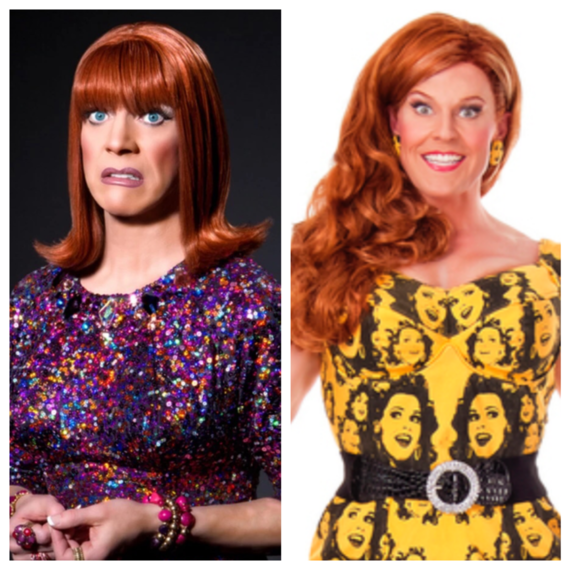 Coco Peru & Varla Jean Merman Join SF's 'Drag Queens of Comedy'
Even a recent social encounter with screenwriter Richard Day shed no light on when the production might finally be released, admitted Peru. During a separate interview with Podomatic's No. 1 LGBT Podcast, she acknowledged he is still working on the film.
"He's a wonderful friend; I trust him so much," explained Peru, "I think he's one of the funniest people I know, if not the funniest. Deadlines? I would be mortified. He lives on another plane sometimes."
The hilarious original, starring Peru, Merman and Jack Plotnick (as Evie), swept film festival awards around the nation upon its release. The L.A. Outfest heaped accolades on the production, with Day taking "Outstanding Screenwriting" and all three leads garnering "Outstanding Actor in a Feature Film" for their drag portrayals.
In the years since, Girls Will Be Girls has come to define the performers' careers. The acidic, dry film version of Coco and Merman's dingy, sex-hungry character wholly captured their stage personas.
"[Day] wrote it with our characters in mind," Merman admitted, "I remember reading it thinking, 'He knows my character better than I do!'"
LISTEN: Party Foul Radio with Pollo & Pearl Interviews Varla Jean Merman & 'Skin Wars' contestant Kyera Delasandro

The film's wit, understanding of the drag legends' identities and the cast's on-set camaraderie made signing for the sequel a no-brainer, agree Merman and Peru. Online crowd-sourcing financed filming, which was completed years ago. Various factors since might have impacted the production schedule for its release, they suggest.

"He doesn't do drag at all, but the way he speaks about drag queens and the passion he for them is really wonderful," stated Peru, "It's not that he doesn't care about the fans, drag queens or the project. I just don't know what time or universe he lives in!"
As the stars await their onscreen reunion perhaps even more than fans, a date is set to bring the two back together. Merman and Peru come to Drag Queens of Comedy Sat., May 28, at San Francisco's Castro Theatre.
Produced by Sasha Soprano, The Drag Queens of Comedy gathers the funniest queens in the industry for one uproarious night. Hosted by RuPaul's Drag Race, Season 6 winner Bianca Del Rio, Merman and Peru join performers such as Lady Bunny, reigning Drag Race winner Bob the Drag Queen, Trixie Mattel, Peaches Christ and more.
LISTEN: Party Foul Radio with Pollo & Pearl Interviews Coco Peru, 'Drag Race' Favorite Trixie Mattel, 'Bates Motel' & 'Sons of Anarchy' Star Kenny Johnson
"It's a real treat for me, because I get to be around other people," said Peru, who generally travels alone, performing her one-woman shows worldwide. Merman shares her long-time friend's enthusiasm, agreeing it is often lonely touring as a solo act.
"Nothing is more tragic than performing a sold out show, then being in your hotel, packing your wet pantyhose, crying over a suitcase with a bottle of Jack Daniels...or two," echoed Merman. "It's always more fun to have other girls to cry over their wet pantyhose with you!"
A Drag Queens of Comedy veteran, Peru has appeared in the line-up across the country. She says the show's rotating cast is a great way for audiences and performers alike to experience new acts.
"I enjoy meeting some of the young [performers]," said Peru, "Maybe I haven't seen [them] except on RuPaul's Drag Race, where I don't think they necessarily get to do everything they can do."
At the January Drag Queens of Comedy: New York, for example, Peru fell in love with Drag Race, Season 7 favorite Ginger Minj. "She's hysterical," she pointed out.
"People probably perceive we are all competing with each other," Peru noted, "But I think we authentically enjoy making each other laugh,"
"When you have girls who are all very confident, and there's no drama, they don't care. They're just there to celebrate each other," concluded Merman. "That's kind of what this Drag Queens of Comedy is about."
'Drag Queens of Comedy' comes to San Francisco's Castro Theatre, Sat., May 28, 6pm & 10pm. Click here for ticket information.
Popular in the Community