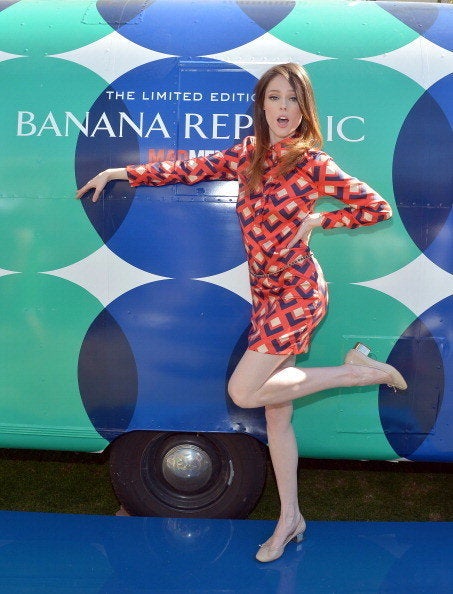 Mad Men is as lauded for its fashion sense as for its dramatic storylines. Accordingly, Banana Republic has introduced its third limited-edition Mad Men collection. Called "Mad for Mod," it brims with bright colors and punchy prints inspired by Pucci and Carnaby Street. Designed in collaboration with Mad Men Costume Designer Janie Bryant, these are clothes that would look perfect on Don Draper's second wife -- as Bryant recently told me, "Megan was very inspirational -- she is really the muse behind this mod-inspired collection." I spoke to supermodel Coco Rocha at The Grove in Los Angeles for the collection's launch. The face of the campaign, Rocha was sporting one of the key pieces from the collection, a mod silk shirtdress in an op-art print.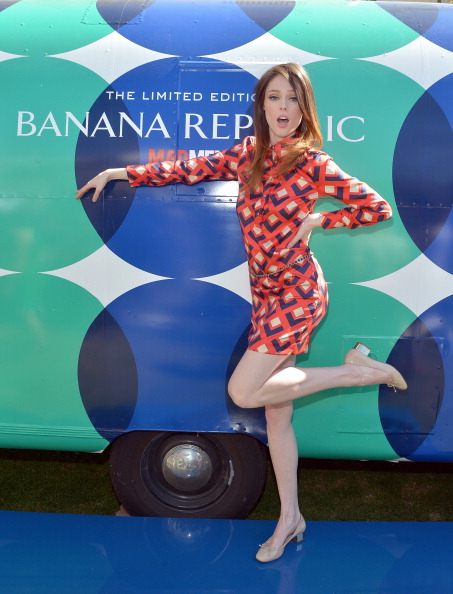 Photo Courtesy of Banana Republic
KB: Are you a fan of Mad Men?
Coco: I am, mostly of the clothes. The same with Downton Abbey. I'm all about clothes -- that's why I model, I guess. Mad Men, the whole visual part of it is so beautiful, and I think that's why this collection is so smart. So many people are like me: when they watch Mad Men, they're inspired. They can fantasize about a world where women were elaborately dressed when they came to work, and men were in a suit and tie.
KB: Are you a fan of vintage clothing in general?
Coco: When I shop it's vintage shopping. The last thing I got was a piece from the Elizabeth Taylor auction at Christie's that I wore to the Met Ball last season. That is my treasure. It was a neon pink and neon yellow 80s Givenchy. What's so great about it is it had this wine stain on it, so for the Met Ball I put my hair over the wine stain. I love things where you have a story. You look and it and wonder where's that from? Tell me its history. That's why this collection made sense. We're talking about an era that has so much history. Even though this (touches dress) was probably made last week, it still has that story: I'm part of Mad Men. You play that character depending on what you do with hair, makeup and accessories. I think everyone likes to be part of history.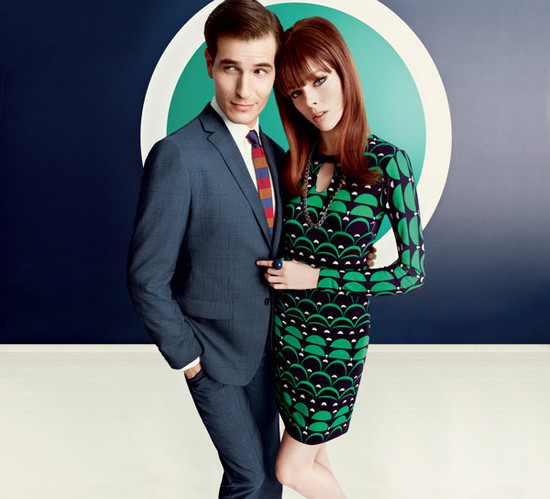 Photo Courtesy of Banana Republic
KB: When you shop for vintage yourself, is there a particular era that you gravitate toward?
Coco: No! I have pieces from the 1800s with the corsets, and on to the 60s. I go, wow, I don't need that, but that's the most amazing thing I've ever seen. I usually want to know the story behind it. That's what's probably the most interesting thing about vintage. Who was the owner of it, where it came from, what war it was in.
KB: As far as Mad Men goes, which character's style do you like best?
Coco: The men. They definitely look attractive. (laughs) My husband -- I'm like, why don't you wear more of that? He's learning, seeing how you can still look cool in a suit.