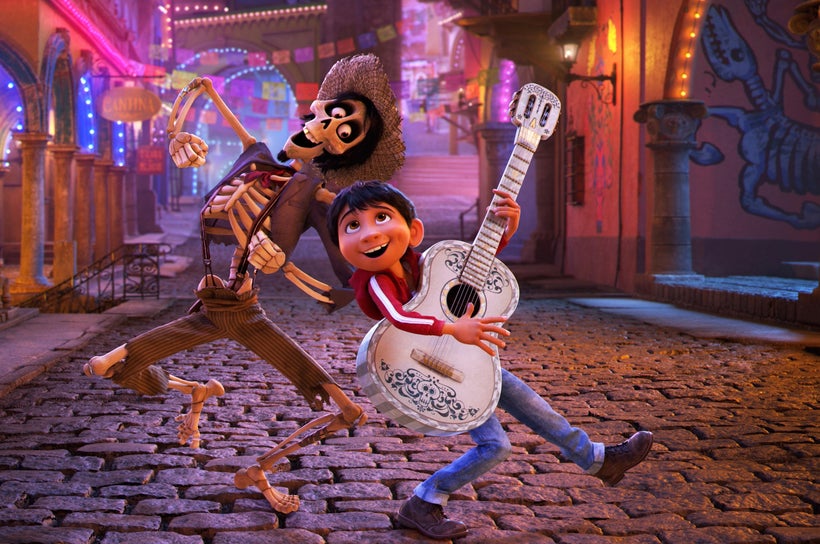 It's refreshing to see an American-made animated film show such great respect for Mexican culture. The special attention paid to tradition, spiritual elements and family values is amazing to watch. Pixar, co-directors Lee Unkrich and Adrian Molina, imaginative writing, an extremely fine tech crew and a very talented cast have made Coco the best animated feature of the year. It's not even a contest.
Twelve-year-old Miguel Riviera (Anthony Gonzalez) is a closeted singer/guitarist. He can't sing or play music in his house, in the small town of Santa Cecilia, Mexico, because of an incident that dates back in his family several generations. His great-great-grandfather left his wife Imelda and their daughter Coco to pursue his dreams of becoming a famous musician. Since then, music has been a no-no in the Riviera household.
Miguel hides his ambitions from his parents, bossy grandmother Abuelita (Renée Victor) and very old, wheelchair-bound great grandmother Mamá Coco (Ana Ofelia Murguía), Imelda's daughter. Things come to a head during the traditional Mexican holiday Day of the Dead (Día de los Muertos), which dates back hundreds of years and was an integral part of Aztec culture. During this holiday, which stretches over several days, people in the "Land of the Living," pay homage to ancestors who are now in the "Land of the Dead." It's a spiritual celebration that the Riviera family reveres.
Yet, in the middle of the festivities, Miguel is still determined to come out to his family as a musician. He is inspired by his idol, the late singer and suave matinee idol Ernesto de la Cruz (Benjamin Bratt, Miss Congeniality), perhaps the biggest singing legend in all of Mexico. As circumstances take Miguel closer to his goal, he meets the enigmatic Hector (Gael García Bernal, Mozart in the Jungle), who may know the truth about the Riviera's real past.
The visuals are stunning. The color spectrum (pinks, reds, oranges, yellows, black, white), textures, designs and images are so distinctly Mesoamerican. The blending of native America traditions and Latino culture give viewers a window into Mexican life that is captivating. An arresting soundtrack features a perceptive range of indigenous music: Jarocho (from Vera Cruz, a mix of African, Spanish and indigenous rhythms); Banda (big brass mix of German and Mexican music); Trio Romántico (three-part harmony). The score is courtesy of Mexican-American composer Germaine Franco and also Michael Giacchino (Oscar winner for the film Up). The eye and ear candy are amazing.
Co-directors Unkrich and Molina in collaboration with writers Jason Katz and Matthew Aldrich forged the basic story, while Molina and Aldrich wrote the nuts & bolts of the screenplay. They all should take a bow for coming up with one of the most inventive plotlines ever told in animation. They've created vibrant characters who experience love and discord. Their ups and downs produce a steady drama that keeps viewers eagerly anticipating what will happen next for a solid two and a half hours. Warning: You will be taken to unimaginable places where humans and spooky creatures collide as they live in two parallel universes.
The entertainment value is just half of why this film is so brilliant. The makers have clearly done their homework on Mexican culture. What's on exhibit is a love of family, respect for the past and an honoring of the dead that is nothing less than reverent. This aspect, coupled with the human drama on view, is heartwarming.
Coco is a goodwill ambassador. It will put a smile on your face. It's a perfect way to start the holiday season. This trip into the afterlife is completely fun and charming.
REAL LIFE. REAL NEWS. REAL VOICES.
Help us tell more of the stories that matter from voices that too often remain unheard.
This post was published on the now-closed HuffPost Contributor platform. Contributors control their own work and posted freely to our site. If you need to flag this entry as abusive,
send us an email
.