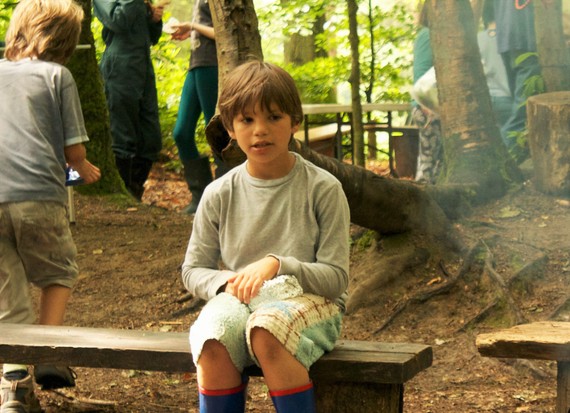 "Love is our true destiny. We do not find the meaning of life by ourselves alone - we find it with another." ― Thomas Merton
Under current test-driven education systems, schools are not so enchanting for either the teachers or the pupils, and it is impossible to imagine schools existing as learning communities, let alone co-creating one. Yet this is precisely what some schools are striving towards.
Last Wednesday, on the first cold day of autumn here in East Sussex, a crowd of parents, teachers, governors and other community members gathered in eager anticipation of the 'Vision Meeting'. This is a small local-community school, Lewes New School, started in 1999 by a group of local parents who wanted an authentic educational experience for their children. The school now provides for 70 children of ages 3 to 11. To ensure educational independence and freedom of action, it is mostly sponsored by the parents, who also play important roles in supporting the educational practices.
What is practised in a pioneering way at the Lewes New School is an education oriented around the flourishing of each child and on nurturing his/her holistic qualities as a human being. It is underpinned by an ethos of care and respect - for oneself, each other and the world at large. Thus, the school aims to create a homely feel infused with a spirit of community, discovery and play. The class size is small and mixed-age so that each person is respected as an individual. The smallness in turn helps foster close bonds between people and enables learning through relationships. Being human-centred, the school includes children in the process of decision-making, decisions concerning both their learning and well-being.
I have been involved in the Lewes New School since the very beginning; initially as a dialogue partner to set up the school itself, later as a researcher observing its development, then an educational consultant, a governor, and now a trustee. Despite the various 'labels', the essence of my engagement remains the same - I am a member of this community where I belong and I care deeply about the learning and growth of the children and their families.
Over this time, I have come to understand that working to develop the school as a learning community, though ostensibly a laudable and virtuous pursuit, is imbued with tensions and challenges, both educational and relational. During these first ten years, whilst exploring innovative teaching and learning, the school also invested resources and time into building human-centredness into the fabric of the community. This is being achieved by attending closely and patiently to the multiple voices and myriad relationships amongst its diverse members, and by identifying processes and structures that constructively channels the community's enthusiasm and energy to support learning.
In autumn 2011 when Linda Morris arrived to become the new Headteacher, the whole school was brought together again for its 'Vision Meeting'. Attended by around 40 community members, the meeting reviewed the school's initial journey and reflected on the purposes of education at present time and the kind of school community most desirable for children's growth. There was enthusiastic dialogue about key educational concepts and processes, and dynamic discussions on the diverse understanding of language used to express the school's values and practices. I still recall the flipcharts, post-its, stickers and all the zealous and passionate conversations engaging in a human-centred vision for education.
Five years on from that, on this cold and windy autumn afternoon, we gathered again for a second 'Vision Meeting'. In the introductory talk, Linda invited us to walk down memory lane with her, and reflect on the ongoing attempts to develop and consolidate the human-centred approach. Then stories were shared effectively illustrating how the children, staff and parents appreciate the intrinsic value in learning and how the school's vision might continue to inspire the way of learning and flourishing in and through the community. By engaging accordingly, we could all clearly see the significance of co-creation for the learning community we are building.
Later, the Deputy Head, Alison Waterhouse, asked us to consider what kind of community engagement practices have sustained the school in moving from uncertainty to clarity with increasing confidence about developing teaching and learning. We started working in groups of 5-6 to revisit and make sense of the core values that can nourish the learning community, and help each other to truly understand what it means to live these core values in day-to-day learning and living.
Amongst a multitude of core values we shared, some are the bedrock of the community, for instance, respect, care, diversity, equality; others characterise the way we are, i.e. collaboration, co-creation, listening, learning and evolving; some reflect the qualities to be nurtured in both children and adults, eg. integrity, compassion; others, such as authenticity and democracy, appear to be somewhat controversial, particularly when interpreted within our community which is culturally and linguistically diverse.
As we listened with keen interest to each other's way of articulating and understanding these values, we had a startling moment of mutual recognition we were living the value of co-creation. The school has matured into such a safe and open space that we now have a deep trust in the co-creative process and are able to dialogue freely and appreciate the different views of others.
We left the Vision Meeting feeling energised and inspired. For me the experience shows that creating a dynamic learning community for the world in which we want to live, there is no other secret than keeping the dialogue going and constantly re-questioning ourselves: "Are we on the right path?", "How do we further the support of learning?", "What processes are more effectively nourishing and bonding for the community?". It is about modelling the rigour of a community as the way we choose to be, become and belong. Then perhaps our children can understand that love, as suggested by Thomas Merton, is the only way for us to find meaning together.
Calling all HuffPost superfans!
Sign up for membership to become a founding member and help shape HuffPost's next chapter