There was lovely, lovely locally fished cod at the farmers' market one day last month, and it was obviously going to be the centerpiece of a Saturday night dinner. As I was waiting my turn at the Pura Vida Fisheries stand (you can listen to an interview with the owner), I worked out a whole dish based on cabbage and caraway seeds and paprika: the fish would sit on a mound of mashed potatoes surrounded by a kind of cabbage goulash vaguely reminiscent of a sauerkraut dish from George Lang's excellent book The Cuisine of Hungary
But of course there wasn't any cabbage in the market. In recent months, last season's heads had gradually shrunken as ratty leaves were stripped away, and by now they were gone altogether. I could have walked into the supermarket and bought all the cabbage I wanted, but (apart from my preference for local produce) there was a silly obstacle. It was two days before St. Patrick's Day, and if I bought a cabbage it might be thought that I was planning to eat it with corned beef like everybody else: I could have explained myself to a farmers' market vendor, but not to a busy supermarket cashier. (We love corned beef and cabbage, but not on March 17.)
There was no obvious Plan B. I really wanted to keep the paprika sauce, which is wonderful with so many fish, and I wandered around the market, browsing and musing. Leaves like kale would have a good texture but would be too flavorful; ones like spinach (of which there was quite a bit in the market) too flimsy. So I looked beyond leafy greens and hit upon leeks, potatoes, hen-of-the-woods (maitake) mushrooms and Jerusalem artichokes (a.k.a. sunchokes): the mild leeks and potatoes and the gently earthy mushrooms would make a delicious goulash-like sauce-stew, and the Jerusalem artichokes ... well, we'd see about the Jerusalem artichokes. Maybe a puree to replace the mashed potatoes I seemed to have axed?
Back in the kitchen, I sweated the white (and a little of the pale green) of two leeks, sliced and well washed, in just two teaspoons of butter. After a couple of minutes I added a quarter pound of maitake, pulled apart by hand. If I'd been using regular white mushrooms, I'd have sliced them. When the mixture was cooked and much of the moisture had evaporated, I added two tablespoons Hungarian sweet paprika and half a teaspoon Spanish smoked paprika (pimentón) mixed into 2/3 cup simple tomato sauce (from the freezer), a teaspoon of caraway seeds, five or six juniper berries, crushed, salt and a little water. I simmered this over low heat for 10 or 15 minutes until it tasted wonderful. Meanwhile, I steamed six small waxy potatoes, peeled. When they were not quite done, but nearly, I cut them into 3/8-inch slices and added them to the leek-mushroom mixture along with some more water to accommodate the potatoes. After five minutes further simmering, the potatoes were done. I stirred in two heaping tablespoons of crème fraîche (or use sour cream by all means) and set the pan aside to await further developments.
By this time, I'd tasted the Jerusalem artichokes and found them to be watery and insipid, so I gave up the idea of a puree. But they were pleasantly crunchy when raw, so I peeled and cut up enough of them to make a scant cup of 1/4-inch dice, which I held until the fish was cooked.
I generously salted five-ounce skinless portions of cod, left them in the fridge for 30 minutes, then rinsed and dried them -- this improves both the texture and the flavor -- and seasoned them with black pepper. Then I brushed the flatter side of each (where the skin had been) with beaten egg and dipped just that surface into a dish of plain breadcrumbs. Breaded side down, I started these in a lightly oiled skillet with a little butter for flavor, and when the crumbs had just begun to brown transferred the pan to a 400-degree F oven where it remained until the fish was cooked, about 10 or 12 minutes (all will depend on the shape of your fish pieces).
I reheated the vegetable "goulash" and stirred in the diced Jerusalem artichokes just to warm through -- they remained crunchy -- and perhaps two teaspoons of lemon juice. I divided the mixture among four plates and set a piece of fish on top of each portion.
The leek-potato-mushroom goulash was delicious in itself and would have made a nice lacto-vegetarian dinner with a slice of buttered bread, but it really came into its own combined with the fish; the flavors were fairly soft and nothing obscured anything else, while the slight piquancy of the paprika and lemon juice added interest.
The Jerusalem artichokes? Well, they were crunchy, which provided a pleasing textural diversion. I'd use them again in a dish like this if they came to hand, but probably wouldn't walk a mile to seek them out.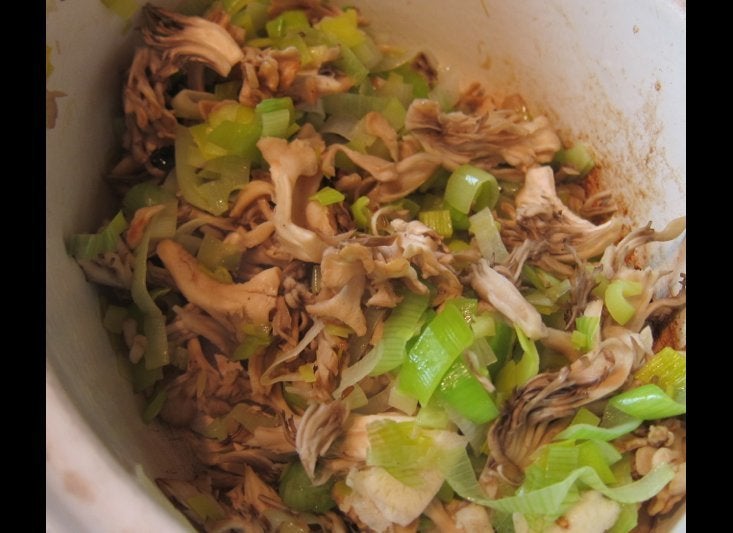 Cod With Vegetable (Sort Of) Goulash