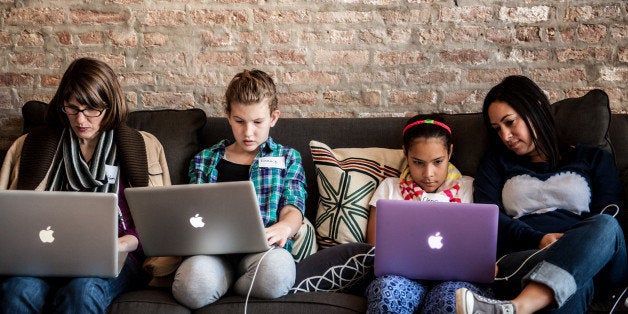 When Chicago-based web designer and developer Jen Myers was first learning to code, it was difficult to feel that she belonged in the male-dominated field.
Myers was frequently the lone woman in her computer science classes, creating a sometimes uncomfortable dynamic. And as she began her career, she had few role models of a similar background to whom she could turn.
More than a decade later, however, Myers not only makes her living at coding but is creating new opportunities for other women — and their daughters — to get a taste of the field through her unique Code and Cupcakes workshop.
The inaugural Code and Cupcakes workshop in October was born out of Myers' experience teaching other women to code through the group Girl Develop It, in addition to instructing her own 9-year-old daughter, who was eager to learn HTML code herself after sitting in on some of her mother's classes. And the cupcakes? Well, why not?
Code and Cupcakes was initially envisioned as a one-off, low-key weekend event for moms and daughters to learn beginner-level coding together in a supportive space for women. But the workshop -- just $35 per mother-daughter pair -- was met with such enthusiasm that all 40 spots the space could hold were quickly booked. That response came as a big surprise to Myers, who works full-time overseeing online training content and runs her workshops on the side.
"The idea of learning how to code is becoming so much bigger than it ever was — it's not an out-of-the-way thing anymore," Myers told The Huffington Post. "People are thinking about how to make the websites we use every day, and I came at the right time to hit some of these things. I really do feel there are a lot of people interested in doing these things who don't know where to start."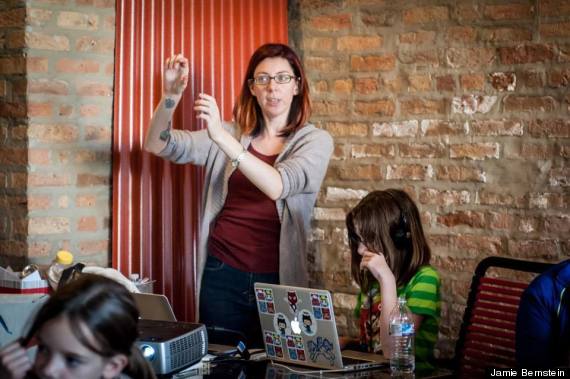 Myers teaches at the inaugural October 2014 Code and Cupcakes workshop.
Due to the popularity of the first workshop, Myers has schedule the next Code and Cupcakes workshop for Jan. 24 at The Living Room in Chicago, as well as a third event at a to-be-determined venue in February. She has also been approached about bringing her workshop to other cities, a possibility she may explore in 2015 while also working to make her resources available to others who want to replicate her model elsewhere.
And Myers is set on making sure her workshops remain accessible to as many people as possible. Though she asked the women to bring their own laptops, or arranged for them to borrow one from the volunteer teaching assistants, she launched an Indiegogo campaign to raise funds to buy laptops that can be used by participants.
As of Tuesday, the fundraising campaign has exceeded its $4,500 goal, covering the cost of 20 new Acer C720 Chromebooks. Additional funds raised by the campaign, which continues through Friday, will go toward a scholarship fund to provide free tickets to needy participants.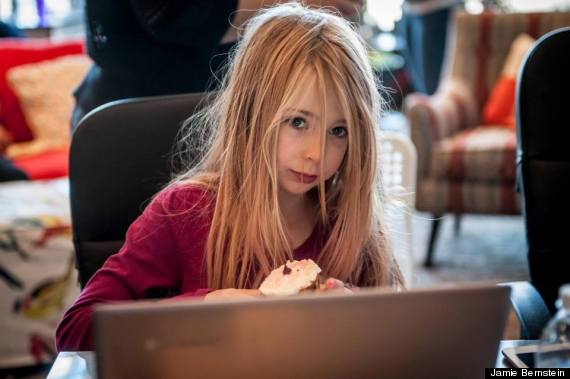 One of the young workshop participants enjoys a cupcake break.
In the future, Myers plans to offer an advanced coding skills workshop, and also hopes to incorporate a yoga break into the session so participants can enjoy a brief respite from screen time. She also wants to provide an opportunity for the volunteers who help her teach to talk about their own experiences in the field.
"It's about creating a space specifically for girls and women that takes away some of the pressure to figure out, 'What will they think of me?' or 'Should I be asking this?'" Myers explained. "I don't want anyone to feel like anything is out of their hands, that they can't do this because it's too difficult or too hard to understand."
While she acknowledges that the tech industry still has a lot of work to do when it comes to issues of diversity, Myers says she hopes to focus on the little victories that come out of workshops like hers, building blocks to empowering individuals to make changes and have more opportunities in their lives and careers.
"I want them feel included and that they belong, that you don't have to naturally be a genius to learn how to program some things."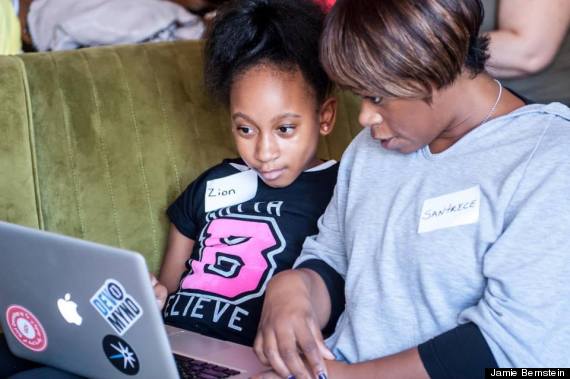 One of the 20 mother-daughter pairs learning basic coding skills at the Chicago workshop.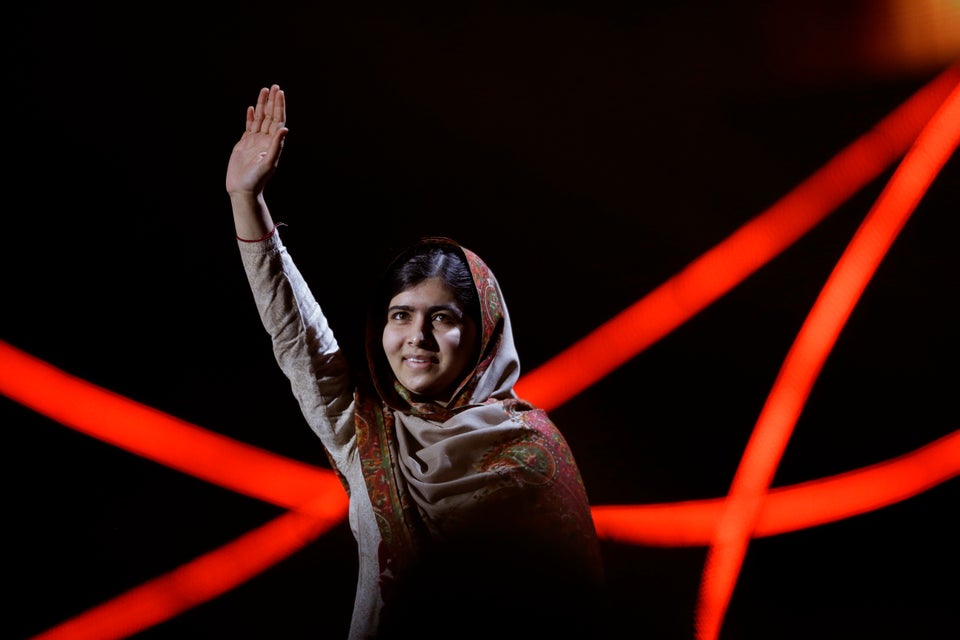 Women Who Defined 2014