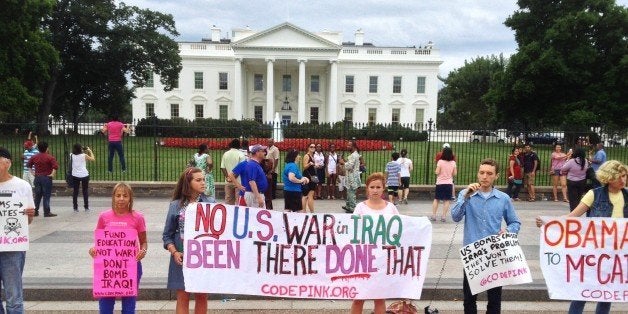 WASHINGTON -- Code Pink won national attention during the presidency of George W. Bush for its high-profile protests against the Iraq War. On Monday evening, the anti-war group was back organizing a rally against the Obama administration's launching of an aerial campaign in northern Iraq.
But the contrast between this latest protest and those of the past was jarring: Just seven people showed up.
Code Pink co-founder Medea Benjamin told The Huffington Post not to read too much into the low turnout, which she attributed to anti-war activist burnout. Demonstrations against the Israeli-Palestinian conflict have taken up much of their time over the past few weeks. She also said there was a lack of public understanding about the the administration's real intent in Iraq.
"Some people think it's really part of a humanitarian mission, which they don't want to oppose," Benjamin said. "I don't think the small turnout reflects the breadth of opposition to the bombing, and if the bombing continues, the protests will grow."
Last Thursday, President Barack Obama announced that he had authorized targeted airstrikes to protect Iraqi civilians and Americans in the country from the military advance of the Islamic State. Obama also said that the United States had dropped 5,300 gallons of fresh drinking water and 8,000 prepackaged meals to help tens of thousands of Yazidis stranded on a mountain in northern Iraq.
The activists who did attend Monday's protest said that they opposed bombing for any purpose in Iraq and argued that the United States was motivated by financial, not humanitarian, interests in the region. They were also skeptical that military action could lead to any kind of stability in the region and pointed to Libya as a country where they said bombing had produced instability.
"This whole idea that the U.S. should play the global policeman is not only ineffective but counterproductive. We are very far away from Iraq; we're not one of the neighbors. It should be dealt with by neighbors and the U.N.," Benjamin told HuffPost. "And the U.S. has been seen for the last 12 years as being way too involved in the Middle East and making a mess of things. I mean, Iraq is an absolute disaster in large degree because of the U.S. invasion."
Benjamin agreed that the United States should provide humanitarian aid to the thousands of Yazidis still trapped in northern Iraq. But she suggested that America had helped create the crisis by supporting embattled Iraqi Prime Minister Nouri al-Maliki, whose government is accused of neglecting and disenfranchising Iraqi Sunnis. The Islamic State is Sunni-backed.
According to Benjamin, the U.S. should have used its previous connections to Sunni chiefs to negotiate with the Islamic State over safe passage for the Yazidis.
"I think a lot has been done for the Yazidis," Benjamin said. "I mean, many of them have been able to escape. And I think getting them humanitarian aid, getting them food, getting them water, creating a safe corridor ... should be a U.N. multilateral effort, not a U.S.-led effort," she said.
Other progressive groups have also expressed concern about the United States' renewed military action in Iraq.
"News that the United States has once again used military force in Iraq, by launching airstrikes, is deeply disturbing -- the risks of mission creep, unintended consequences, and incremental escalation are real and dangerous. After a decade of conflict, the U.S. cannot afford another Iraq war, and U.S. military force is not the solution," Anna Gallad, executive director of MoveOn.org, said in a statement on Friday.
But for the most part, Democratic lawmakers have supported the recent airstrikes in Iraq, while also cautioning against broader involvement.
"I oppose open-ended military commitments, which the president's actions in Iraq could become," Sen. Richard Blumenthal (D-Conn.) said on Friday. "I am deeply concerned that these actions could lead to prolonged direct military involvement, which I would strongly oppose."
Appearing on NBC's "Meet the Press" on Sunday, Senate Majority Whip Dick Durbin (D-Ill.) said that escalating the conflict was "not in the cards."
"Neither the American people nor Congress are in the business of wanting to escalate this conflict beyond where it is today," he said. "I think the president has made it clear this is a limited strike. He has, I believe, most congressional support for that at this moment. To go beyond is really a challenge."
Calling all HuffPost superfans!
Sign up for membership to become a founding member and help shape HuffPost's next chapter