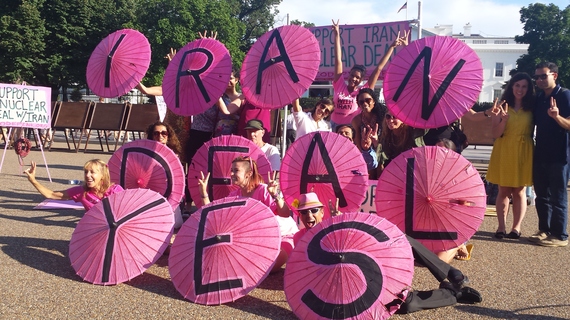 CODEPINK members posed to show their support of the Iran Nuclear Deal, outside of the White House where they held Iranian dance lessons. Photo by Marissa Beale
In the midst of discussions about the nuclear deal with Iran, CODEPINK, a women-led grassroots organization working to end U.S. wars, called for a celebration of Iranian culture in front of the White House, on July 23 in an event they dubbed "Dancing With the Enemy."
Earlier that day, they were present at a rally hosted by Concerned Women for America Legislative Action Committee (CWALAC) where Senator Ted Cruz (R., Texas) spoke to those opposed to the deal. During his speech, CODEPINK activists and competed to make their voices heard, and it reached a point where Cruz invited Benjamin onstage to debate him about the Iran Nuclear Deal.
"I recognize that the folks in CODEPINK like to hold up signs saying, 'Peace with Iran.' You know who doesn't reciprocate those views? Iran," Cruz said during the rally.
Secretary of State, John Kerry; Secretary of Energy, Ernest Moniz; and Secretary of Treasury, Jacob Lew defended the Iran Nuclear Deal before members of the Senate Foreign Relations Committee on what was day four of Congress's 60 days to review the Deal. On July 28 they addressed the House Committee on Foreign Affairs.
And while discussions about the Iran Nuclear Deal have henceforth been political, Thursday's CODEPINK demonstration was based on showcasing Iranian culture.
"We're here to celebrate the president's bold move to remove sanctions. People are hurt under sanctions. Food prices are increased. We're hoping Iran's Embassy is the next to open," said Saghafishallal. But similar to the rally held earlier that day, not all who attended this demonstration held the same views.
"I don't trust the evil dictators at all," said one D.C. resident who walked by the demonstration. "I would love to see the people free, but it's not a great deal. No deal is better than a bad deal. Why do they need nuclear power anyway?"
It is said that the Nuclear Deal would block major pathways to a weapon. Among the stipulations, Iran would be required to get rid of highly enriched uranium at the Natanz and Fordow facilities and eliminate weapons-grade plutonium for the next 15 years. The Deal would also prevent "covert attempts" to produce the fissile material needed for a bomb and require that two-thirds of Iran's centrifuges be dismantled. In exchange, the U.S. would lift economic sanctions against Iran. Without the deal, it is postulated that it would take two to three months for Iran to produce one bomb's worth of material, according to the White House website.
Jamileh Tabrizi, an Iranian woman present during the rally said the people want peace.
"This is who Iranians really are," she said referring to the crowd of people laughing and dancing. This sentiment was echoed by several Iranians present who described the current situation of the people in Iran.
But cultural diplomacy has not been at the forefront of discussions surrounding a possible deal with Iran.
"Events like this are good for morale building," noted George Washington University junior Erin Agnew, who was present during the rally. "Culture is hugely important to shifting perspectives. It tends not to impact discussions, though."
"The government's job is to look for diplomatic solutions, and the citizen's responsibility is to push the government to do this," said Benjamin.
The event drew a crowd that included everyone from small children to adults in their seventies, and lasted for about an hour-and-a-half before concluding.
Popular in the Community