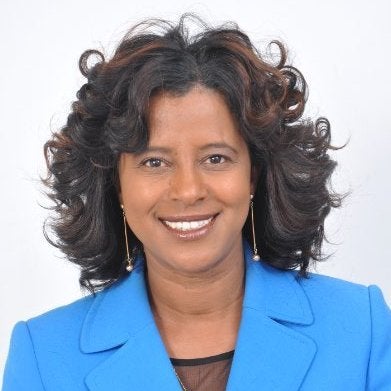 Betty Gronneberg is the Founder and Executive Director of uCodeGirl, a non-profit organization that creates a pathway to technology careers for teen girls by tapping into their curiosity, skills, and potential. Last month, she spoke on the STEAM track at the 2017 GlobalMindED Conference in Denver, CO.
A native of Ethiopia, Betty has over 20 years of experience in the technology industry. In her role as a Software Engineering Manager, Betty led software engineers and directed a broad range of projects and initiatives while participating in planning, analysis and implementation of global solutions.
As a recipient of the prestigious Bush Foundation Leadership Fellowship, Betty is challenged to continuously think big and think differently. Her friends and colleagues describe her as "inspirational". She enjoys connecting people and listening to their stories.
GlobalMindED greatly values Betty's accomplishments in diversifying the coding industry, and we wanted to dig deeper in order to find out more.
What is your background, and how did it influence your career?
My love affair with the world of coding, the global language of the future, started when I was a 2nd year student at Addis Ababa University in Addis Ababa, Ethiopia. I was a teen girl majoring in Statistics—determined to make formulas, numbers, and probabilities my friends—when I was selected to participate in the country's first-ever offering of a Computer Science degree. I had never touched a computer before then, never mind programming one.
It was a rough start. I struggled when operating the boxy, tube-like IBM machine, a DOS based terminal attached to a processor that pre-dates the AS/400 series. We used BASIC to write GOTO loops and conditional statements, and much more. I might have crashed the system with never ending loops; I am not telling. We eventually graduated to more sophisticated languages like Fortran and PASCAL. That was my tipping point—I never went back to the field of Statistics.
How did you become interested in social capital?
In Africa, we say it takes a village. In America, we call it, Social Capital. Even though my parents grew up with scarce educational resources, which limited their exposure and access to opportunities to further their schooling, they worked tirelessly so that I could advance mine. They championed, encouraged, and supported me to stand on their strong shoulders, so I could see farther and reach higher, for us all. I went on to build the first United Nations Economic Commission for Africa (UN-ECA) website and earn my Masters of Science degree in Software Engineering from North Dakota State University (NDSU). I strongly believe in the proverb, "education is a treasure that will follow its owner everywhere." A lot of people helped me acquire this treasure. Now, it is time to give back.
Where did the idea for your organization come from?
During my 20+ years in the software development industry, I have worked in various roles as Webmaster, Programmer, Software Engineer, Sr. Software Engineer and Software Engineering Manager, leading complex projects and fellow Engineers. In all of the roles I held, loneliness, as a female developer was my constant companion. Though I never let it stop me from realizing my inner potential, being an immigrant woman of color in the tech industry had its snags. Nevertheless, I persisted.
Intrigued by the ever-present question, "How can I see more of me in the technology workforce?" I made the un-natural progression from Software Engineer to Social Entrepreneur to found a social profit organization called uCodeGirl. Created to intentionally rhyme with the phrase "you go girl!", the all-female led non-profit, uCodeGirl, embodies empowerment. It says to the young girl, "We support you. We will teach and encourage you. We will build the village around you and stand behind you, as you achieve what you are destined to achieve." So that the next generation is empowered with skills and confidence, they need to successfully navigate and actively participate in this increasingly digitally-driven market.
Our purpose is to fill the technology sandbox with diverse voices globally by inviting young girls to opt-in early. uCodeGirl is designed to sustainably inspire, engage and equip young girls in the community with leadership traits, computational thinking skills and an entrepreneurial mindset. We do that through year-long, hands-on, real-world project based enrichment programs, STEM mentorship and experiential immersion into the world of tech. Our mission is to create a pathway to technology careers for girls by tapping into their curiosity, skills, and potential, so that they can confidently pursue opportunities suitable for the 21st century.
As a recipient of the Bush Foundation Leadership Fellowship, I am continuously challenged to think big and to think different. I want to see more girls in the world be the innovative driving force behind the technology they consume.
How are we lacking in diversity in the computer science field?
Girls are increasingly missing out from actively participating in the creation of the innovative future of our world. In the world of technology, girls are an endangered species, and we have to treat them as such. The irony is that women were the pioneers and trailblazers of the computing world, starting with Ada Lovelace who between 1842 and 1843 wrote the first algorithm, instructions for the computer that didn't yet exist.
The wave of technological advancements in this fourth industrial revolution is evolving at an exponential pace, disrupting almost every industry and transforming entire systems of production, management, and governance. With the progression of machine learning, the Internet of integrated things, robotics and quantum computing, the future is already here. We need to collectively work at raising computational thinkers to cope with the smarts of the machines.
We are proud of Betty's trailblazing efforts for girl-coders, and we look forward to seeing her again at GlobalMindED June 9-11, 2018 in Denver, CO.
Related
Popular in the Community