As good ole fashioned jobs dry up faster than plants in the summer, there's a gold rush to get the 21st century skills you need to marketable. That message has not been lost on a crop of new "how to learn programming in a hurry" schools. In New York City, where I live, schools like Flatiron School, General Assembly and Fullstack Academy all promise to unlock the magic and teach you to code, and fast. How fast? About twelve weeks to competency. At what price? Well, there are one off courses to pick from, but a basic immersive program will run you about $10k.
Not inexpensive, but these new breed schools combine a boot camp/incubator/job fair mentality that really seems to work. They each claim high job placements (Fullstack says 97%).
Once they've turned you into a decent coder, they cleverly use their past graduates and NYC tech connections as feeders. They create a sort of job fair/demo day program that land their students their first coding jobs.
My colleague, Kerry Goldstein, just attended the Hiring Day at Fullstack (pictured below) to see how it worked. Fullstack brought in representatives from leading organizations (some of whom were former Fullstack students), to hear project presentations from 50 of Fullstack's students. But these weren't your ordinary PowerPoints or essays, the proof of their competency was in the pudding. Finished apps and programming solutions were presented in much the same fashion as a startup would present to a potential investor.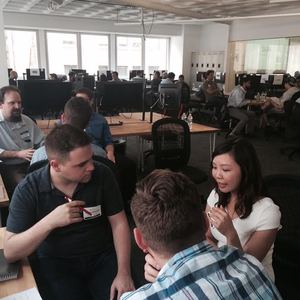 Steve Romain, a former Fullstack student and fellow, now at American Express, said he attended the Hiring Day to find candidates with "that angular experience, drive and passion to learn on the fly." "Learning on the fly is crucial to American Express," Romain said. David Yang and Nimit Maru, co-founders of Fullstack, saw an opportunity for school that answered an immediate need. Learning to code, for many job seekers, offers better, faster rewards than a college degree.
Students Dan Morosani and Siddharth Joshi showed up at Hiring Day with a team project that created a unique mobile banking app and web API that can help serve countries where mobile phones dominate. Other projects shown included cybersecurity in email transactions, real-time video display of YouTube comments, and web page rendition management.
The schools differ in the length of their programs, online versus physical location, and the breadth of programs to include topics like interface design, marketing and building websites. But the central idea pervades. Learn to code quickly. Make a project. Learn to articulate what you've done. And invite past students and programmer hungry companies in for the show.
Liberal arts it's not, but this combination of show and tell, incubator, and job fair appears to be timely, effective and the kind of lifelong, just-in-time learning we're going to see more of.
Robin Raskin is founder of Living in Digital Times (LIDT), a team of technophiles who bring together top experts and the latest innovations that intersect lifestyle and technology. LIDT produces conferences and expos at CES and throughout the year focusing on how technology enhances every aspect of our lives through the eyes of today's digital consumer.
Calling all HuffPost superfans!
Sign up for membership to become a founding member and help shape HuffPost's next chapter