Police officer Cody Garrett of Spartanburg, South Carolina knew that a photo of himself posing with his newly rescued kitten was cute. He just didn't know how cute.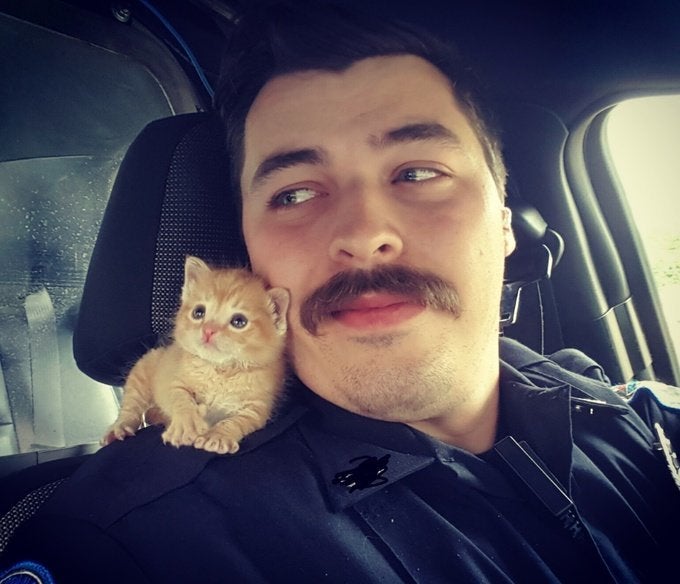 The 28-year-old cop has been bombarded with marriage proposals since the pair, dubbed a "crime-fighting duo" by Buzzfeed, went viral. (Though Garrett clarified to HuffPost that the tiny orange feline does not, in fact, come along on patrols or otherwise assist in fighting crime.)
Garrett adopted the kitten, whom he named Squirt, after he and another officer found her in a dumpster.
"It was raining outside pretty bad," Garrett said, noting that "we probably saved her life" since there was a small flash flood in the area shortly afterwards.
"She's the smallest kitten I've ever seen," he added.
He decided to bring her home because his own cat, a female named Toothless whom he adopted after finding her in his yard, just had a litter of kittens and was still nursing. He hoped she'd adopt the newcomer, and it worked.
And why the name "Squirt?" It's not because the kitten was just so dang small, but because shortly after bringing her home, the kitten let out a stream of poop.
But it's hard to hold that against this face.
Though he's been getting "a lot of marry me's" from new fans, he said his longtime girlfriend isn't concerned.
"She knows I love her," he said.
But while he's not looking for romantic attention, he does hope that his viral story helps people think more positively about cops.
"Police officers aren't the enemy," he said. "We have families, we like rescuing animals and playing video games. We're not just out doing the crazy stuff people see on the news."
Calling all HuffPost superfans!
Sign up for membership to become a founding member and help shape HuffPost's next chapter
BEFORE YOU GO
PHOTO GALLERY
Cats, Cats, Cats!