According to an arrest affidavit filed in Travis County District Court on Wednesday, Wilson, 30, is accused of paying a juvenile female "under the age of 17" $500 to have sex with him at a hotel in Austin, Texas, on Aug. 15, a second-degree felony.
Austin police say Wilson initially met the girl on the website SugarDaddyMeet.com where he operated under the alias "Sanjuro." Wilson identified himself by name and arranged to meet for sex in subsequent conversation, according to a police search of the girl's phone authorized by her parents.
In separate texts reviewed by police officers, Wilson sent the girl photos of his penis and described himself as "a big deal," presumably referring to his efforts at Defense Distributed, the 3D-printing gun manufacturer he founded.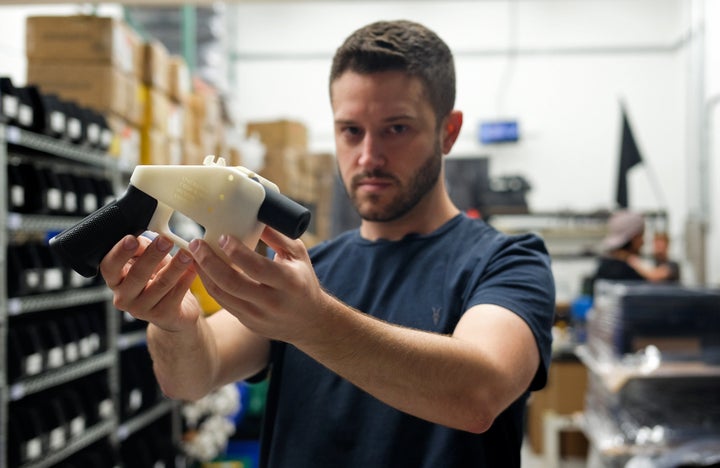 Surveillance video obtained by the Austin Police Department corroborates the girl's story and shows Wilson and the girl enter the hotel lobby and walk toward the guest rooms at 8:37 p.m. on Aug. 15, then leave roughly 40 minutes later at 9:19 p.m. 
As of Wednesday morning, Wilson did not appear to have surrendered to authorities, Travis County records show. A county magistrate has ordered he surrender his passport and be held on $150,000 bail.
Austin Police Commander Troy Officer told reporters Wednesday afternoon that Wilson failed to appear for a flight home after being tipped off about the investigation by a friend of the victim. His last known whereabouts are Taipei, Taiwan. 
"We don't know why he went to the Taiwan," Officer said, "but we do know that he was informed that he was being investigated."
Defense Distributed did not respond to a request for comment Wednesday, nor did SugarDaddyMeet. 
Wilson, a self-described "crypto-anarchist," attempted to distribute free plans to 3D-print plastic firearms on the internet, touting its efforts as heralding the "age of the downloadable gun." After a federal judge blocked Defense Distributed from sharing the plans for free, Wilson attempted to circumvent the ruling by "selling" the blueprints for a nominal fee instead.
In subsequent filings, Defense Distributed and a second gun-rights group called the Second Amendment Foundation argued their ability to share schematics for printing firearms constitutes free speech that's protected under the First Amendment.
This story has been updated with comments from Officer. 
Calling all HuffPost superfans!
Sign up for membership to become a founding member and help shape HuffPost's next chapter