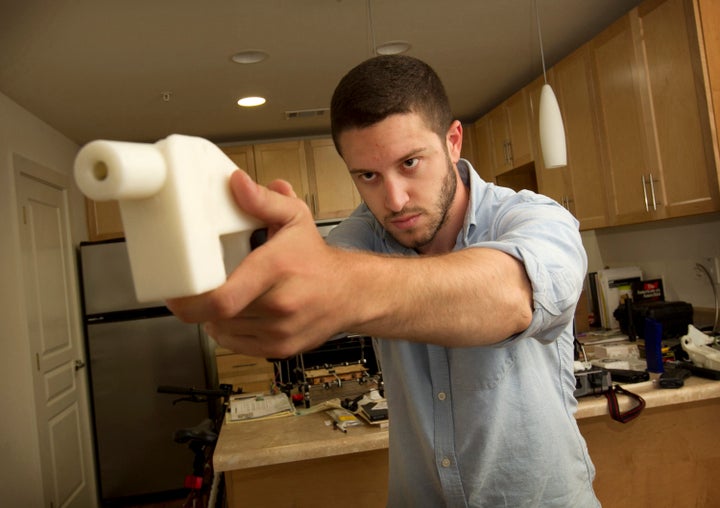 Cody Wilson capped off a weeklong journey through the criminal justice system ― in which he was charged with sexual assault, arrested in Taiwan and jailed in the U.S. ― by leaving his company, where he created what's been called the world's first 3D-printed gun.
VICE News first reported that the 30-year-old Texan will no longer sit at the helm of Defense Distributed, which has essentially cornered the 3D-printed gun market while drawing the ire of U.S. authorities for posting the blueprints online.
"Cody Wilson tendered his resignation Friday evening to focus on personal legal affairs," said Paloma Heindorff, the company's former chief of operations, who will take the reins in place of Wilson. "Defense Distributed's board of directors accepted his resignation, and thus his role at the company has been concluded."
On Sept. 19, Austin, Texas, police charged Wilson with sexual assault of a minor, after he allegedly paid $500 to a 16-year-old girl he met on SugarDaddyMeet.com to have sex with him at a local hotel. With that announcement, police also threw in the revelation that Wilson had jetted to Taipei prior to formal charges.
But he was quickly arrested by Taiwanese authorities after he tried to book a hotel there and was transported back to Texas over the past weekend. He posted a $150,000 bond on Monday and was released in Houston, according to the Austin American-Statesman.
Wilson's quick departure from Defense Distributed seems to answer the question of what happens to his business ― and the 3D-printed gun industry ― now that he's facing felony charges. Heindorff, his 29-year-old successor, told the Statesman that the company has received about 3,000 orders for its gun blueprints since their free dissemination online was stopped by a federal court last month.
"I cannot be more proud of my team right now," she told the paper. "We didn't miss a beat. No one blinked. No one has missed a day at work. We've all come in. We're still shipping. We have no intention of stopping."
Defense Distributed has reportedly raised about $400,000 to fight a group of state attorneys general over the release of such blueprints. You can read more about the ongoing court battle here.
Popular in the Community