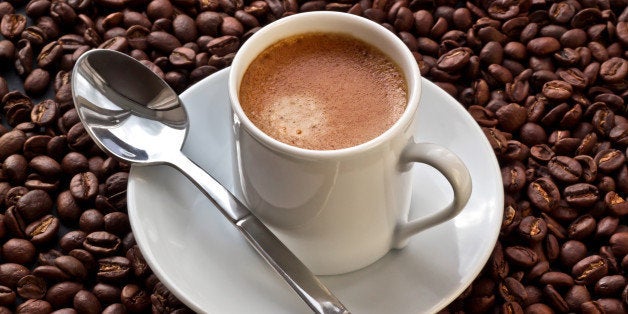 NEW ORLEANS, March 22 (Reuters) - The number of American adults who enjoy a daily cup of coffee has dropped to 61 percent this year, from 63 percent in 2013, the annual National Coffee Association of USA's National Coffee Drinking Trends study showed on Saturday.
The popularity of espresso-based coffee drinks such as cappuccinos and lattes, however, jumped with 18 percent of the 3,000 adults surveyed saying they drink these daily. This is up from 13 percent last year.
Americans are also drinking more gourmet coffee on a daily basis, with 34 percent of the adults surveyed saying they drink this every day, up from 31 percent in 2013. Meanwhile, daily non-gourmet coffee drinking is at 35 percent, down from last year's 39 percent, which the study stated as leading the decline in total daily coffee drinking.
Gourmet coffee is defined as espresso-based drinks as well as regular coffee made with beans that the drinker considers gourmet.
The way Americans are brewing their own coffee has also changed, with 29 percent of the survey respondents saying they made their previous day's java with a single-cup brewer. This is up sharply from 20 percent in 2013.
The surge comes as Americans buy more single-cup brewing systems, such as Keurig Green Mountain Inc's brewers, which instantly make one cup of coffee at a time with "K-cups".
Of those surveyed, 15 percent said they had a single-cup brewer in their homes, up from 12 percent one year prior and 10 percent in 2012, and 25 percent said they were likely to buy one in the next six months.
Many major U.S. roasters including U.S. Folgers maker J.M. Smucker Co and Maxwell House maker Kraft Foods Group sell their coffee in K-cups, which are single pods filled with roast and ground beans that are placed in the brewer.
Meanwhile, those who used a drip coffee maker fell to 53 percent in 2014 from 58 percent a year ago, the study showed.
This study has been done annually since 1950, and includes adults 18 years and older. It was conducted online from mid-January to mid-February.
The margin of error is plus or minus 1.9 percent. (Reporting by Marcy Nicholson; Editing by Stephen Powell)

Related
Popular in the Community