When Thomas Noble arrived at Heathrow Airport in London three years ago after being deported from the U.S., two Marines handed him his papers and told him to "have a good life."
Noble is British by birth but had been brought up since infancy in America. After serving a yearlong U.S. prison sentence for drug trafficking, he found himself alone in a city he didn't know with an addiction to painkilling narcotics after a car crash. "I had no home, no food, no money. I had to beg, but most people see my size and think I'm eating just fine. It breaks you."
His situation quickly became desperate. "Having nowhere to lay your head is one of the scariest things in the world," he says. "In a country where it's cold and raining, what do you do? When I landed in London, my first thought was to go and jump in the Thames."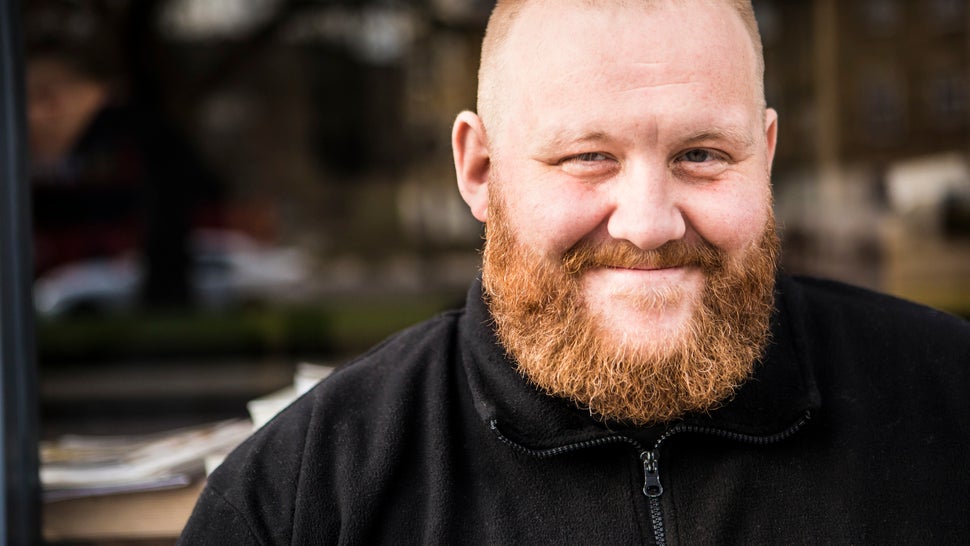 To his profound gratitude, a U.K.-based charity called Prisoners Abroad helped him find shelter and support, and connected him with Change Please, a British startup that trains homeless people as baristas and employs them to run its mobile and permanent coffee outlets and vans.
The social enterprise ― which just won $350,000 in the annual Chivas Venture competition to find and fund the world's most promising startups ― aims to help end homelessness by giving people on the streets (or those sleeping in buses, airports and shelters) training, psychological support, housing and a job that pays enough to live where they are based.
Noble is now off painkillers and is working five days a week at Change Please's sister company Spike + Earl and, on weekends, for Change Please in London's Borough Market and Victoria Market. He earns the London "living wage" of £10.20 ($13.60) an hour, has an apartment, paid time off and plans for the future.
"Your vanilla Frappuccino from Starbucks is always the same," he says. "But with Change Please, you actually have somebody who appreciates the fact that you stopped to get some coffee from them that's going to be good. For me, it's a win-win."
Cemal Ezel founded Change Please in 2015 after being inspired by a Vietnamese tea house run by a woman who was deaf and mute. "I had enough of walking past people begging for change and holding out a coffee cup," Ezel says. "The problem of homelessness is getting much worse, but at the same time, the global coffee business is valued at $80 billion. If we put the two together, we can really solve homelessness."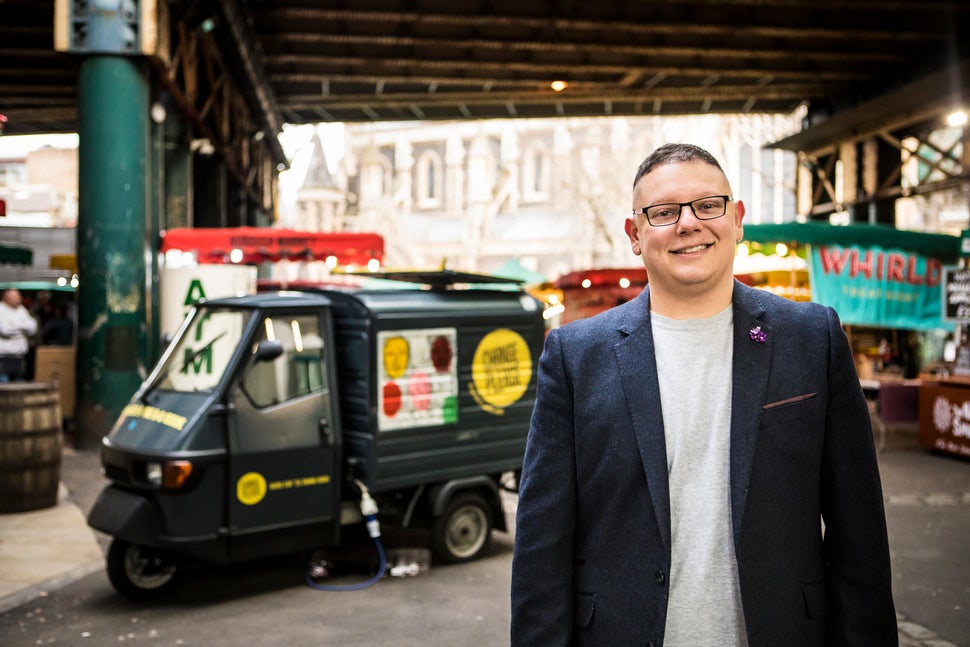 The high profit margin in coffee, Ezel believes, means the industry has great potential to be used for good, and a "job first" model, where employment is prioritized over even housing, gives people a more sustainable future.
Today, Ezel's business sells three brands of roasted coffee through the U.K. supermarket chain Sainsbury's, provides coffee for accountancy firms such as PwC, and has five coffee vans and two permanent locations, with 2.3 million cups sold so far. And it has plans for an international rollout, with its sights set particularly on the U.S.
"We're about to open in Perth, Australia, have just come back from meeting the mayor's office in New York and are looking for sites in San Francisco," says Ezel in Amsterdam. "We are looking by November to be in a proprietary location in the U.S. and we want to build training centers and franchise the model."
Homelessness is a pervasive problem in the U.S., one getting worse even as the country's economic vital signs are good.
Every two years, American cities conduct a mandatory homeless street count. The 2017 Annual Homelessness Assessment Report found that on a single night, 553,742 people were homeless ― more than one-third of them without shelter. This was, the report said, the first increase in seven years.
One of the Chivas Venture judges, pop star Will.i.am, has pledged to help Change Please forge connections in Los Angeles, a city he decried for its "tin city" of homeless people who have created makeshift shelters on the streets.
Ezel says he's now in discussions with the pop star's team. "This has so much reach," he explains. "We are speaking to Will.i.am about opportunities in Los Angeles and how we can develop that. We have the money to open a training academy in the U.K. first. The next step is international growth."
In Los Angeles, where homelessness has reportedly gone up 75 percent in six years due to issues like housing costs and domestic violence, some say an organization like Change Please could be beneficial.
"Homelessness is an absolute crisis," says David Graham-Cuso, deputy chief of staff for the city of Los Angeles. "Roughly 32,000 sleep on the streets every night in Los Angeles, and it has gotten worse over the years [with] the loss of affordable housing and gentrification in certain neighborhoods, rising housing costs, and the economic downturn of 2008.
"Job training programs are an important part of not only helping people out of homelessness, but keeping them out. It sounds like a fantastic program and it would be welcomed here in LA."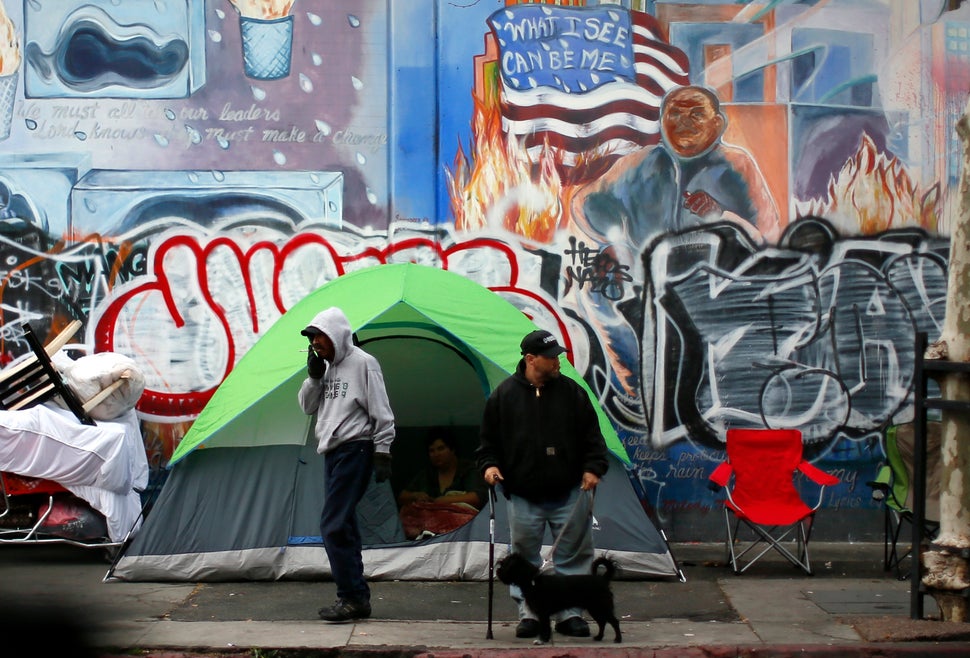 The California sun is a magnet for people without a roof, says Maryam Zar, co-founder of the Pacific Palisades Homelessness Taskforce. "Nationwide people who experience homelessness head west ― presumably because it's easier to live without shelter in an area where the weather isn't so severe," she says. "One area where I'm always advocating is jobs: giving people the opportunity to make a living and gain the dignity that comes with the ability to provide for yourself. That dignity can go a long way in [improving] your mental health."
But academics like Deborah K. Padgett, professor of social work and global public health at New York University, believes that while initiatives like Change Please are very welcome, the buck stops with governments in providing affordable housing.
"It is a terrible case of government leaving aside its duties in society," she says. "I consider it shameful that we are in our third decade of chronic homelessness and disparities in wealth."
Padgett adds that U.S. housing secretary Ben Carson's proposal to raise public housing rents is a "horror show" for people who find them "barely affordable as it is." She continues: "It is a myth that people are the authors of their own fate ―  there are plenty of people who took drugs or drank too much, and don't end up on the street. My research shows that if you make the right offer, no one wants to live on the street."
Noble certainly doesn't. Now, he has a Change Please coffee named after him. Each of the company's coffees is named after an employee, and he was one of the early success stories.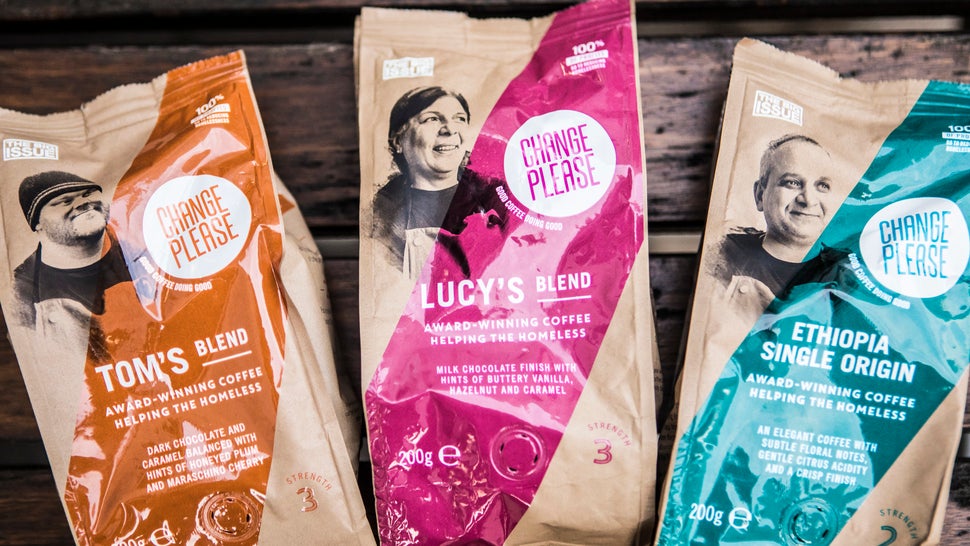 "When I was younger, I never saw myself living past 25," he says. Now I'm 35 and I'm actually planning to have holidays, maybe buy a house, have children, to enjoy my life. Without Cemal, I would have given up a long time ago."
For more content and to be part of the "This New World" community, follow our Facebook page. 

HuffPost's "This New World" series is funded by Partners for a New Economy and the Kendeda Fund. All content is editorially independent, with no influence or input from the foundations. If you have an idea or tip for the editorial series, send an email to thisnewworld@huffpost.com
Calling all HuffPost superfans!
Sign up for membership to become a founding member and help shape HuffPost's next chapter