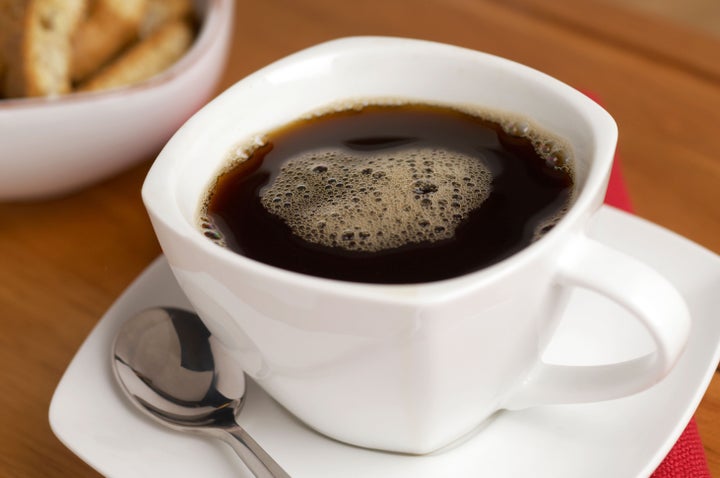 First it was cutting the risk of depression, now skin cancer -- when it comes to the health benefits of coffee, the good news keeps rolling in.
New research presented at an American Association for Cancer Research conference suggests daily joe consumption may help reduce the risk of basal cell carcinoma, the world's most common cancer.
Women who drank more than three cups of caffeinated java daily saw a 20 percent reduction in risk, while men saw a 9 percent reduction, compared to people who had less than one cup per month. The researchers also tested for a possible connection between coffee consumption and decreased risk of melanoma and squamous cell carcinoma risk -- two other skin cancer types -- but found none.
"Although we cannot conclude from our study that the inverse association between coffee and BCC is causal, it is consistent with the inverse association between coffee and the risks of other cancer sites," said researcher Fengju Song, Ph.D., a postdoctoral fellow in the department of dermatology at Brigham and Women's Hospital and Harvard Medical School. She cited a recent meta-analysis that found adding one cup of coffee a day decreased overall cancer risk by 3 percent.
"Furthermore, our study shows that the inverse association with BCC appears due to caffeine, not other components in the coffee consumption," she continued, explaining that decaf coffee appeared to have no effect.
The researchers are not sure what, exactly, is behind the apparent link between coffee and BCC risk, nor do they understand exactly why it seems to impact only the one type of skin cancer.
"It does suggest that there is something in caffeine that may have a specific effect on the pathway for BCC development," said Dr. Robert S. Kirsner, vice chairman of dermatology and cutaneous surgery at the University of Miami Miller School of Medicine. "This would likely lead people to get back into the lab and try and figure out how caffeine might effect that pathway."
In a statement, Song shared her belief that the findings could eventually have great potential public health impact, given the high number of basal cell carcinomas, both in the U.S. and abroad. According to the Skin Cancer Foundation, the vast majority of skin cancers are basal cell carcinomas, and they affect more than 2 million Americans every year.
BCCs often look like waxy bumps, flat scaly patches or ordinary skin sores that develop on areas of the body regularly exposed to the sun. They are easily treatable in their early stage, though complications do exist and include increased recurrence rates and increased risk of other types of skin cancer, as well as a chance of spreading to other parts of the body in rare, aggressive cases.
"We think that sun exposure in childhood and acute exposure, as opposed to prolonged exposure -- so a blistering sunburn -- are the biggest factors," Kirsner said. "This study, which suggests that there's something in adulthood that you can do to diminish the risk from childhood, is exciting."
But does it mean that non-coffee drinkers should take up the habit?
Absolutely not, experts say, cautioning that the research is very preliminary.
However, current coffee drinkers can take heart in what appears to be yet another potential benefit of java consumption.
"If you're a coffee drinker and you're at risk for BCC, then I think this a reason not to change your behavior," Kirsner said. "This should go into the equation of good versus bad when it comes to coffee and your own risks."

Related