A café and coffee shop in Somersworth, New Hampshire caused a local stir after it erected a cheeky, queer-inclusive billboard for Pride last month.
The ad for Teatotaller features a man in pink eyeshadow and short shorts posing with his legs akimbo as he's about to bite into a sandwich. "I like my men like I like my coffee," the billboard, which first appeared June 22, reads.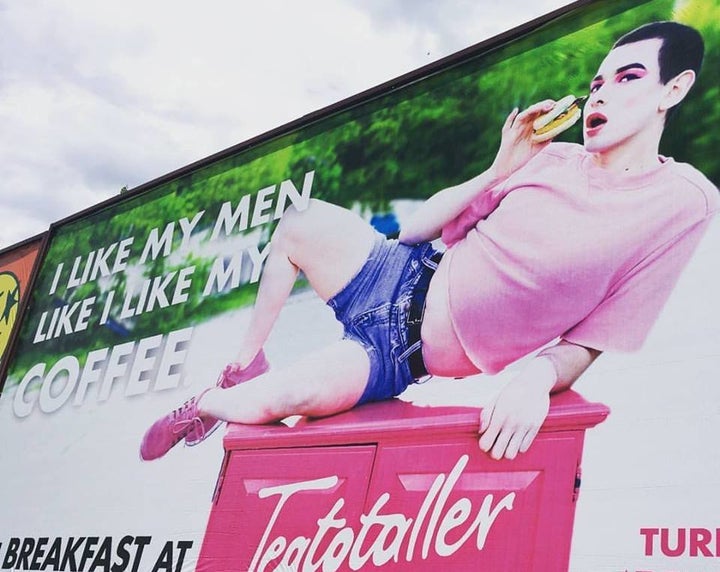 The ad's sexy-cute feel doesn't seem out of line for Teatotaller, which bills itself as "an oasis of queer, hipster tea, coffee, and pastry goodness" on Facebook. But a photo of the billboard, which was posted to Facebook by local news outlet Somersworth Now June 27, had nonetheless received more than 160 comments, many of them negative, by Monday afternoon.
"Instead of choosing to appeal to a broad demographic for their first large-scale advertisement, they choose a controversial approach and lock out a substantial percentage of what would have been potential customers who, for whatever reason, have a problem with what's being presented in this ad," one person wrote. Added another, "Having to try to explain why a man wants to look like a woman is a little much to have to explain to my child at this age."
Others, however, praised the ad for its satirical humor. "I personally didn't even think about sexual orientation. I think it's cute and funny. I'd love to see my [boyfriend] like this with my breakfast," one person wrote.
The billboard also caught the eye of Somersworth Mayor Dana Hilliard, who acknowledged that while it may "push the limits" of some locals' "comfort level," it's nonetheless a prime example of a free market society. "Living within a democratic society which values First Amendment guaranteed rights, discussion and discourse means that we will be exposed to opinions and sometimes ads which are counter to the way we think," Hilliard told The Foster's Daily Democrat.
In an email to HuffPost, Teatotaller's co-owners Emmett Soldati and Palana Belken defended the billboard, saying they aimed to be "provocative, but only in a way that we, a local business and local personality, were already doing."
"From our modest beginnings in 2011, Teatotaller has sought to inspire, excite, and engage a community of citizens looking for vibrancy and decadence. We are a venue for everyone looking for cosmopolitan flair in a sleepy town," Soldati and Belken, who said they received positive feedback from customers, wrote. "Over the course of our history, this has included embracing the weird, the eccentric, and the queer. Going against the tide of establishments one might expect in a small working-class downtown, Teatotaller has always 'stuck its neck out' and stood up for the values and aesthetics it admires."
The pair also praised the "self-confidence, flair and fabulousness" of 18-year-old Michael Cummings, the Somersworth native who modeled for the ad. "Like Teatotaller, Michael is a product of Somersworth – not some external influence," they wrote. "This is what has made the project so special."
Popular in the Community