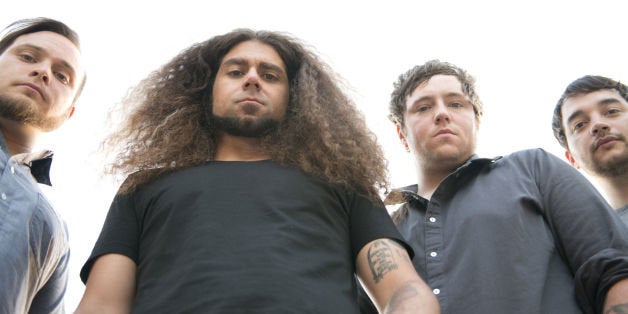 Between the years of 2002 and 2003, underground rock received a number of albums that significantly molded the sounds of progressive, post-hardcore, experimental, emo, alternative rock and the many spaces that sit between. Amongst these albums were Saosin's "Translating The Name," Brand New's "Deja Entendu," The Mars Volta's "De-Loused in the Comatorium," Thursday's "War All The Time," Taking Back Sunday's "Tell All Your Friends" and Glassjaw's "Worship and Tribute," all marking the beginning steps of each act.
Coming in towards the end of 2003 was another album that sealed itself as legendary within the scene: Coheed & Cambria's "In Keeping Secrets of Silent Earth: 3." While the similarities in sound between the album and their peer's aforementioned are undeniable, it was a rather unlikely band that had the greatest influence on Coheed during the writing of this album.
"We didn't rely on a machine to guide us, we relied on each other to have each other's backs."
"When we were in the studio, a lot of the production things we wanted to do, one of the bands I was listening to a lot of and who I hadn't been exposed to very much was Queen," lead vocalist and guitarist Claudio Sanchez told HuffPost Entertainment. "If we are looking at those bands, what we were listening to in the van was probably 'Worship & Tribute,' The Get Up Kids' 'Something to Write Home About.' We were all sort of in that world, but when we were in the studio, polishing things off and getting into a more production sort of standpoint, it brought me to these elements that I hadn't been as exposed to. Yeah, I knew classic rock to a degree, but Queen wasn't one of them. I ended up listening to 'A Night at the Opera' over and over, and I think that's where I got my sense of harmony from, just building up harmonies and making the vocals sound a little wider."
For many, listening straight through "Silent Earth" not only bring backs memories of the first time they heard its melodies, but also of the the raw, imperfect sound of the recording that marked its time.
"We weren't playing to click tracks, everything was reliant on Josh's tempo," Sanchez said. "And if it grooved, we kept it. That's the beauty of some of those first few records, there's a lot of movement. We didn't rely on a machine to guide us, we relied on each other to have each other's backs. I think that's what makes some of those things special, that it is so very organic."
There're plenty of reasons why the band's fans are so excited for the reissue of "Silent Earth." Lines like "Pull the trigger and the nightmare stops," and "Good eye sniper, here I'll shoot, you run," are permanently branded in the minds of fans; the buildup, vocalizations and final chorus chants of "Man your battle station" at the end of the title track forever anthemic. Then to top it off, the band has embarked on a nation-wide tour during which they are performing the entirety of the album (dates listed below).
For Sanchez, there's just a special "energy" that comes in returning to "Silent Earth."
"A lot of these songs have special places in my heart. 'The Crowing' would probably be the one."
"A lot of these songs have special places in my heart," Sanchez said. "'The Crowing' would probably be the one. Why? I'm not exactly sure. I think it's probably because of the arrangement and the approach I took when writing it. I remember when I wrote that I was living in my parent's house, I had some table-top 8-track. I recorded that song acoustically, at the time that's sort of what I did, a couple acoustic guitars, a bunch of vocals and then I would showcase it to the band and the band would create the song. But I just remember writing that one and being really excited about it. Like, 'Oh, wow. This is a step in a new direction for me.'"
"I also like 'Light & Glass.' That one's kind of funny because at a time in the studio we called that song 'Stairway To Heaven 2.' We would have the silliest names for our songs. Our producer Mike Birnbaum was listening to the lyrics and told us that we should do a video for this song that's very much like Led Zeppelin's 'The Song Remains The Same,' where each character has this strange background. You have Robert Plant just riding on a horse, trying to save the princess on this beach or whatever. He wanted to give me a feather quill, put me in a white wig and start writing the words and who knows. It was all kind of silly."
Coheed & Cambria NEVERENDER IKSSE:3 Tour Dates w/Thank You Scientist:
September 07 2014 - Fox Theater - Oakland, CA
September 09 2014 - Paramount Theater - Seattle, WA
September 10 2014 - Roseland Theater - Portland, OR
September 12 2014 - The Complex - Salt Lake City, UT
September 13 2014 - Fillmore Auditorium - Denver, CO
September 15 2014 - South Side Ballroom - Dallas, TX
September 16 2014 - Stubbs Waller Creek - Austin, TX
September 17 2014 - House of Blues - Houston, TX
September 19 2014 - House of Blues - Lake Buena Vista, FL (sold out)
September 20 2014 - House of Blues - North Myrtle Beach, SC
September 21 2014 - The Fillmore Charlotte - Charlotte, NC
September 23 2014 - The Fillmore - Silver Spring, MD (sold out)
September 24 2014 - Tower Theatre - Upper Darby, PA
September 25 2014 - Wellmont Theater - Montclair, NJ
September 27 2014 - Hammerstein Ballroom - New York, NY (sold out)
September 28 2014 - House of Blues - Boston, MA (sold out)
September 30 2014 - The Fillmore Detroit - Detroit, MI
October 01 2014 - Kool Haus - Toronto, ON
October 02 2014 - House of Blues - Cleveland, OH (sold out)
October 04 2014 - Skyway Theatre - Minneapolis, MN
October 05 2014 - House of Blues - Chicago, IL (sold out)
October 06 2014 - Mercury Ballroom - Louisville, KY (sold out)
October 07 2014 - Tabernacle - Atlanta, GA
REAL LIFE. REAL NEWS. REAL VOICES.
Help us tell more of the stories that matter from voices that too often remain unheard.
BEFORE YOU GO
PHOTO GALLERY
Artists To Know In 2014