A giant Oscars statuette snorting lines of cocaine was booted from Hollywood Blvd. today, in close proximity to the Dolby Theatre, site of Sunday's Academy Awards. Entitled "Hollywood's Best Party," the life-sized golden Oscar statue is on its hands and knees, holding a rolled-up hundred dollar bill to lines of white powder. The statue was featured on a red-carpet like pedestal, flanked with velvet ropes, even a security staff.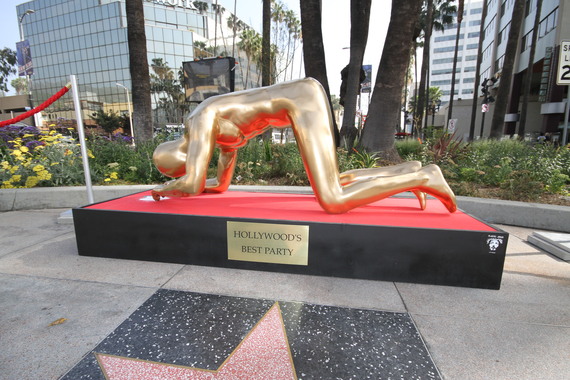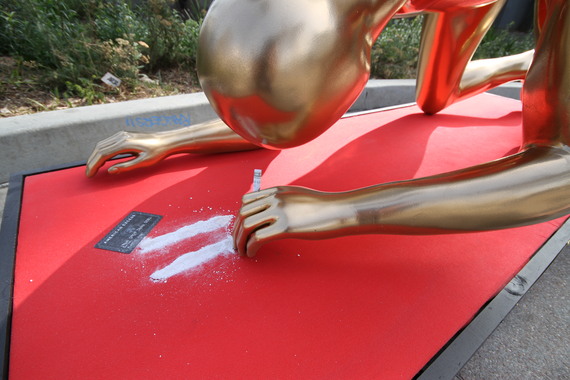 Looking divinely official and perverted at the same time, this was a street art installation by Plastic Jesus, a venerable Los Angeles street artist who pulled off a similar stunt last year at the same Hollywood gateway: a huge Oscar statue holding a needle to its arm, tied off with a belt. The plaque on the Oscar statue read, "Hollywood's Best Kept Secret." In the wake of Philip Seymour Hoffman's death from a heroin overdose, this image set off a flurry of media coverage.
The piece today was up for only a couple of hours before an official from the Hollywood Chamber of Commerce ordered the installation removed at 11:40 a.m. The security team for Plastic Jesus was quick to disassemble the piece and cart it off before any conflict. (Last year, an individual claiming to be from the Academy got out of their car and tried to take down the heroin-injecting Oscar statue.)
I asked Plastic Jesus about this year's Oscars installation and his street art.
Why did you do this piece?
PJ: To bring attention to LA's cocaine addiction. Too many people will head off after the show and indulge in coke.
How did you fabricate the piece?
PJ: It's made from a fiberglass figure. All the body joints have been reshaped.
Where and when will the piece be displayed again, if at all?
PJ: Melrose and Stanley. Outside Urban Outfitters. On Saturday.
What is your message in this piece?
PJ: It's time Hollywood and the USA started talking about drugs. The current drug war is not working. In 2014 cocaine outsold Coca-Cola.
Here are more photos of the cokehead Oscar™ statue, along with photos of its hasty break down and get away.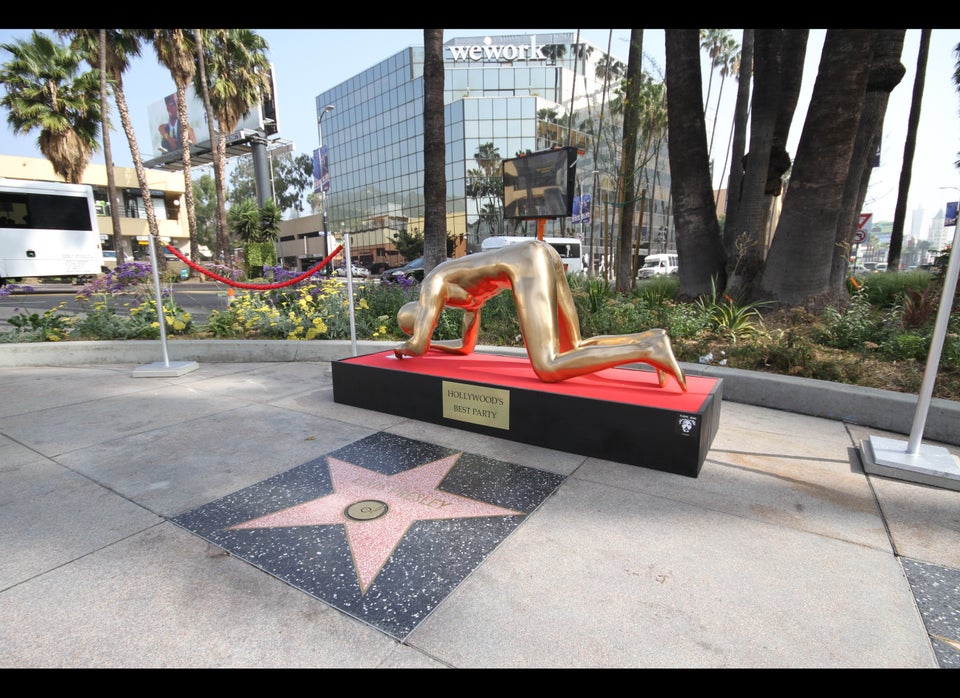 "Hollywood's Best Party" by Plastic Jesus
Popular in the Community