Celebrated ABC News journalist Cokie Roberts died Tuesday morning from complications related to breast cancer, her family confirmed to the network. She was 75.
"We will miss Cokie beyond measure, both for her contributions and for her love and kindness," her family said in a statement to ABC.
Roberts took home a number of awards, including three Emmys, after getting her start at CBS News in the 1970s, followed by a stint at NPR covering Capitol Hill. At a time when few women were given prominent newsroom roles, she made an indelible mark on broadcast journalism.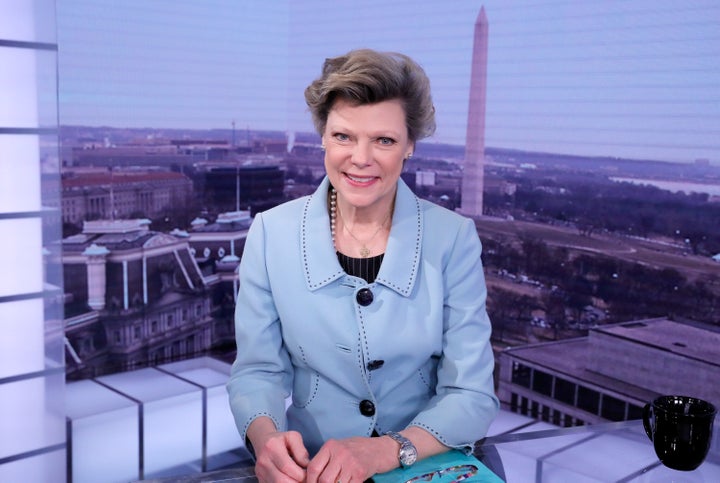 Born Mary Martha Corinne Morrison Claiborne Boggs on Dec. 27, 1943, Roberts said the nickname "Cokie" came from her older brother, who couldn't pronounce "Corinne." The new name stuck with her over a decadeslong career as a reporter and bestselling author. 
Roberts was the daughter of two Democratic members of Congress: Hale Boggs of Louisiana, a member of the Warren Commission who was presumed dead in 1972 after a plane he was traveling on vanished without a trace in Alaska, and Lindy Boggs of Louisiana, who was the first woman from her state elected to the House.
Roberts, the couple's third child, graduated from Wellesley College in 1964 with a degree in political science. Although she considered following in her parents' footsteps, she chose to forge a different path for herself.
"You do get used to it, and you shouldn't, because it is a very special thing to be able to be in the room ... when all kinds of special things are happening," she said. 
Roberts also shared with the outlet her concerns about the state of the media industry. She said that there was too much pressure, in the era of the 24-hour news cycle, for reporters to be the first to break news, and she worried that not everything people read online has been properly verified. She also thought highly divisive politicians like President Donald Trump were causing harm.
"There's no such thing as 'fake news.' It's either news or it's fake," Roberts told KET. "There are no alternative facts. They're facts or they're not."
Former Presidents George W. Bush and Barack Obama expressed their condolences. 
"We are deeply saddened that Cokie Roberts is no longer with us," the Bush family said in a statement. "She covered us for decades as a talented, tough, and fair reporter. We respected her drive and appreciated her humor. She became a friend."
"Michelle and I are sad to hear about the passing of Cokie Roberts," Obama said in a statement of his own. "She was a trailblazing figure; a role model to young women at a time when the profession was still dominated by men; a constant over forty years of a shifting media landscape and changing world, informing voters about the issues of our time and mentoring young journalists every step of the way."
Trump, when asked for comment on Roberts, said, "I never met her. She never treated me nicely."
"But I would like to wish her family well. She was a professional and I respect professionals," he added, according to a pool report.
Among her many accolades, Roberts lays claim to an Edward R. Murrow Award, a Walter Cronkite Award for Excellence in Journalism and the distinction of being named a "Living Legend" by the Library of Congress, in 2008.
ABC News President James Goldston said Roberts' "kindness, generosity, sharp intellect and thoughtful take on the big issues of the day" were a credit to the outlet and its staff.
She is survived by her husband of 53 years, journalist and professor Steven Roberts, along with her two children and six grandchildren.
Calling all HuffPost superfans!
Sign up for membership to become a founding member and help shape HuffPost's next chapter
BEFORE YOU GO
PHOTO GALLERY
Writers We've Lost In 2019