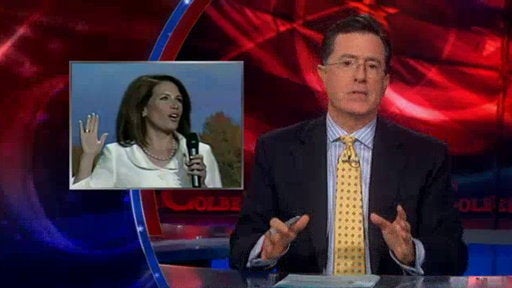 Stephen Colbert gave a thorough recap of the Iowa Straw Poll on Monday night's "Report," covering everything from Bachmann's impressive winning strategy -- buying votes -- to Pawlenty's exit from the race.
But he saved the most important detail for last: the results of Colbert Super PAC's campaign to get voters to write-in "Rick Parry". Apparently, Iowa GOP officials refused to release the full write-in results, so there's no real indication of how effective the Super PAC's efforts proved. But don't think Colbert was going to take that on the chin.
Instead, the host issued a challenge to Des Moines local news station WOI-DT, listing the entire evening news team by name. More specifically, Colbert threw the gauntlet directly at the feet of "intrepid cub reporter Katie Eastman," promising that if she could find out how many people voted for Perry with an "A," WOI-DT could announce the results on the "Colbert Report," or he could announce it on theirs. Either way, we encourage WOI-DT to do the right thing and accept this mission.
Watch the full clip below and let us know what you think the Iowa Straw Poll results mean for the GOP race.
Popular in the Community