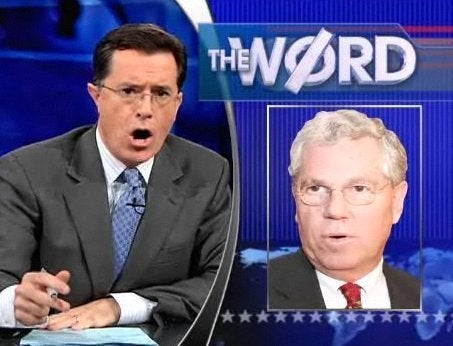 Rhode Island Governor Don Carcieri vetoed legislation last week that would give same-sex couples the rights to claim the bodies of and make funeral arrangements for their deceased partners. He said such legislation was a "disturbing trend" signifying the erosion of traditional marriage.
Stephen Colbert took both Carcieri and the Catholic Church to task last night, the latter for threatening to close its homeless shelters in DC if gay marriage becomes legal there. "I mean, they have no choice. After all, as Jesus said, 'If you wish to be perfect, go and sell your possessions and give the money to the poor, unless a couple of dudes register at Pottery Barn, in which case, f**k the poor,'" Colbert quipped.
He went on to "applaud" Carcieri for his stand against giving gay couples the right to post obits for and bury their partners saying, "This is an assault on marriage from beyond the grave. They're like gay zombies."
Related
Popular in the Community