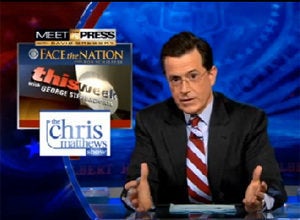 Last night's "Colbert Report" very nicely packaged together so many conversations we've had here since December of last year. Discussing the Sunday morning talk shows, which Colbert called "a grown-up version of Saturday morning cartoons," the show wove together a segment that began with Jay Rosen's suggestions for improving the format, and then brought on ABC News's Jake Tapper and Politifact's Bill Adair to discuss how they've been trying to implement Rosen's suggestions.
Tapper describes the engagement of Politifact as an "augmentation" of the "first line of defense" that he provides on the show. Colbert operated well within his traditional, "facts have a liberal bias" satiric pose, saying that he "gut checks his show," and would opt for the "AK-47 of Bullshit" over the "Sword of Truth." Citing an instance that called for some thorough factchecking, Tapper got off a great bit of deadpan drollery over John McCain's "I never considered myself a maverick" moment.
"The ultimate outcome is for our viewers and our readers and the readers of Politifact is to know the truth is," said Tapper, adding, "I think the media really abdicated its role in the early part of this decade, in the run-up to the war in Iraq."
Whoa there! At that moment I'm pretty sure David Gregory was heard to exclaim, "Hey! Is he allowed to say that?" To which "Meet The Press" producer Betsy Fischer replied, "There, there. There, there. We'll get you an Eames chair."
Popular in the Community