In a segment mocking the epidemic of "Ebola Panic" that has gripped the United States, Stephen Colbert couldn't resist taking a jab at his favorite opinion shouter, Donald Trump.
"Speaking of vomit, blood and feces, Donald Trump ..." he deadpanned. Colbert then chastised Trump for saying that two doctors who contracted the disease while treating patients in Africa should not be allowed to return to the U.S. for treatment.
During an interview on "Fox & Friends," Trump allowed that the doctors are good people, but "they have to suffer the consequences."
"Yes," Colbert mock-agreed, "You have to suffer the consequences for your good deeds. That's why Mother Teresa's tombstone reads, 'She had it coming!'"
"The Colbert Report" airs Monday-Thursday at 11:30 p.m. ET on Comedy Central.
Before You Go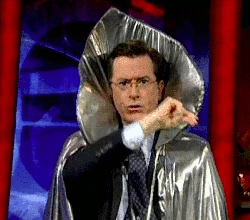 Stephen Colbert GIFs
Popular in the Community