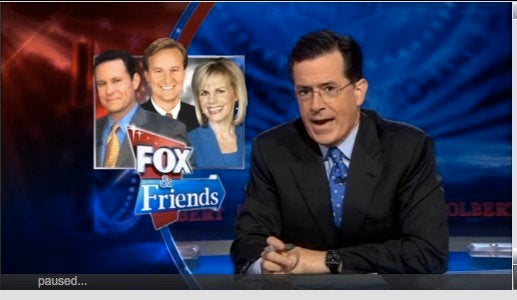 Did you know you can now get pap smears at Walgreens? At least, that's what you would have learned as a dedicated viewer of 'Fox & Friends.'
As the dust settled on the non-government shutdown, Stephen Colbert took the opportunity to highlight some of the most outrageous comments made during the Republicans' unsuccessful bid to completely defund Planned Parenthood.
First up, was the junior Senator from Arizona, Jon Kyl. Both Stewart and Colbert took swipes at Kyl for blatantly lying about the women's health services organization, saying that it spends 90% of its time performing abortions. In actuality, it's only 3%, but Kyl's camp defended his statement by saying it was never meant to be factual. Good to know that statements made on the Senate floor in support of zero-funding an organization that provides vital medical care to women who otherwise wouldn't be able to afford it don't have to be true as long as they feel true to the speaker.
Colbert then moved into the utterly laughable arena, focusing on a recent 'Fox & Friends' discussion about what Planned Parenthood actually does. We know that Walgreens offers a lot of great products and services, but we're pretty sure that pelvic and breast exams aren't among them.
Related
Popular in the Community