Over in France, politicians openly have mistresses -- but as Stephen Colbert pointed out on Wednesday's "Colbert Report," the public fervor surrounding their sex lives can often lead to disaster.
In his recurring segment Alpha Dog of the Week, renamed as Chien Alpha de la Semaine, Colbert looked at the ongoing sex scandal surrounding French president François Hollande. Despite having a longtime girlfriend, the president has been caught with a French actress -- and he does not know which one he will bring to the United States as his First Lady.
"And remember, folks, Hollande looks like he should be ringing bells at Notre Dame," Colbert joked.
Check out the full clip of Colbert discussing the scandal above.
Before You Go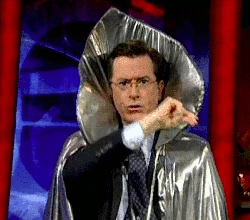 Stephen Colbert GIFs
Popular in the Community