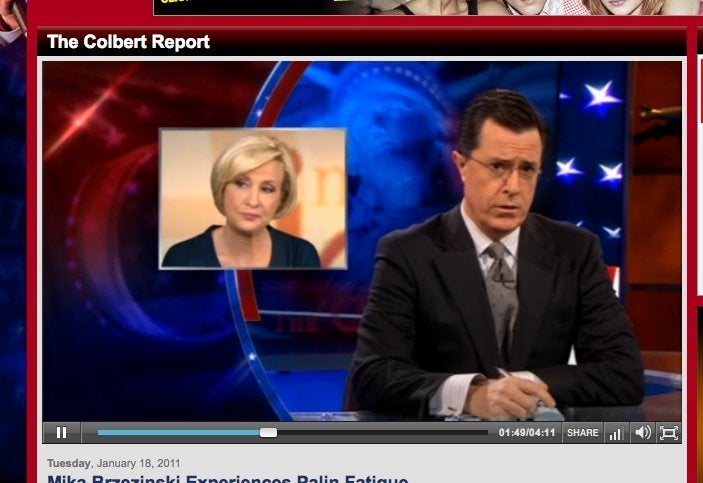 On Tuesday night's "Colbert Report," Stephen Colbert diagnosed "Morning Joe" co-host Mika Brzezinski with a condition known as "Palin Fatigue." Noticing her frustration while covering the latest Palin story, Colbert delivered an impressive tough love message to Brzezinski, telling her at length that she needs to "buck up."
What "journo-psychologists" are calling Palin Fatigue is actually something many people may be currently experiencing: an overload of Sarah Palin online, on TV and in the headlines. Her re-re-response to the Arizona shooting nearly sent Brzezinski over the edge, so Colbert turned to camera three to deliver a lengthy inspirational message to her:
"I know you think she has nothing to offer the national dialogue and that her speeches are just coded talking points mixed in with words picked at random from a thesaurus."
He went on calling out Palin tongue-in-cheekedly for several minutes:
"I know you think she's at best a self-promoting ignoramus and at worst a shameless media troll who'll abuse any platform to deliver dog whistle encouragement to a far-right base that may include possible insurrectionists."
And on he went. His point? Her actions may get far more news coverage than they deserve, but Brzezinski needs to hang in there. She has two more years left to cover Palin, after all. Colbert finished things up with this final message to Brzezinski:
"I have faith in you kid, you can do it. I'll see you in New Hampshire. I'll buy."
Calling all HuffPost superfans!
Sign up for membership to become a founding member and help shape HuffPost's next chapter