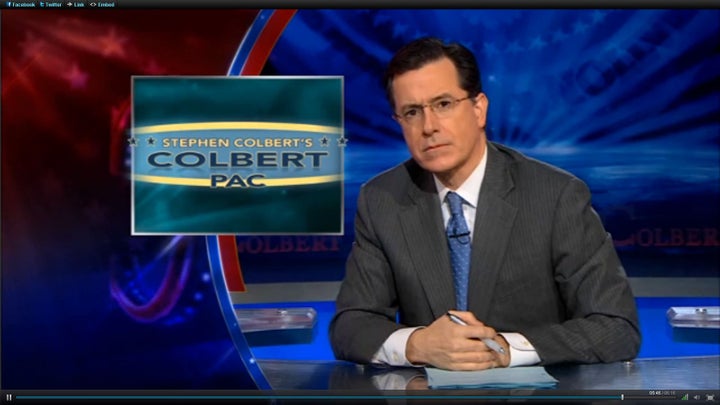 WASHINGTON -- The campaign finance reform community is by and large cheering on Stephen Colbert's pursuit of a Super PAC, seeing it as an inspired way to call public attention to the excesses of the current election system. One of the foremost reformers in town, Trevor Potter, even joined Colbert as his lawyer when the Comedy Central star filed a request with the Federal Election Commission two weeks ago.
But on Friday, two major reform groups -- including one that Potter leads -- urged the FEC not to give Colbert everything he and Potter are asking for. They argue that doing so would set precedents that serious political candidates and their corporate media sponsors could use to avoid disclosure.
"We appreciate that Mr. Colbert submitted his advisory opinion request in the spirit of political comedy, but we're not going to stand by and watch potentially damaging unintended consequences to decades of important campaign finance law," said Paul Ryan, associate legal counsel for the Campaign Legal Center. Potter, who was serving Colbert in his capacity as an attorney with the Caplin and Drysdale law firm, is the president of the center, and recused himself from discussions on the matter.
There are no hard feelings, Ryan said. Potter "is serving the interests of his corporate media client. And he's a great attorney. And Stephen Colbert is lucky to have him," Ryan said.
But "this wasn't a tough call at all," he added. "If Mr. Colbert is given permission to do all that he requests, it would push the media exemption far beyond the current bounds."
Potter declined to comment. "It is Mr. Colbert's view that he is fully capable of speaking to the press on substantive matters related this advisory opinion request," he told The Huffington Post.
Colbert's months-long quest to form a political action committee of his own has allowed him to call attention, as a parodist, to a campaign finance system that allows for the creation of organizations that can receive unlimited contributions to influence elections.
Thus far, his pursuit has been stymied not by the FEC, but by Comedy Central's parent company, Viacom. The media giant has twice told Colbert to cease and desist. Viacom's most recent concern is that its production costs would have to be reported as political contributions -- but it doesn't want to have to deal with the hassle.
When Colbert asked Potter how Fox News gets away with it on an episode earlier this month, Potter explained that as a political broadcaster, Fox received a media exemption. Colbert decided he wanted one, too. And the "advisory opinion request" he filed with the FEC on May 13 -- in person -- was to that effect.
The two groups that filed their comments on Friday -- the Campaign Legal Center and Democracy 21 -- don't object to Colbert getting a media exemption in general, just to certain aspects of his requests. Part of Colbert's routine has been creating spoof PAC ads like this one, ostensibly praising former Minnesota governor and Republican presidential candidate Tim Pawlenty.
In his FEC filing, Colbert proposes spending Super PAC money to get those (fake) ads aired on other shows and networks, and asks that Viacom's and its employees' time and resources expended on the creation and production of those ads not be reported. He also requests that any of Viacom's costs related to administering the PAC be exempted.
For Colbert to "simply discuss his PAC on his TV show -- that I think pretty clearly falls within the existing press exemption," Ryan said. But creating and producing campaign ads and paying the administrative costs of a federal PAC do not, he said.
"Sarah Palin has Sarah PAC, Mike Huckabee has Huck PAC, Newt Gingrich has American Solutions PAC, Rick Santorum has America's Foundations PAC -- and all are television hosts or commentators," the groups wrote in their filing with the FEC. "An advisory opinion here granting all that Mr. Colbert requests would permit the corporate media employer of these individuals -- who are, unlike Mr. Colbert, serious politicians, not comedians -- to make unlimited, undisclosed contributions to their PACs under the guise of the 'press exemption.'"
"There is no legal justification for such a radical evisceration of [Federal Election Campaign Act] disclosure requirements," they concluded. "Mr. Colbert's ultimate goals here may be comedic, but the Commission should not be the straight man at the expense of the law."
If the FEC comes back with a mixed verdict -- say, allowing a basic exemption for Colbert's show, but not for the ads and administration costs -- the PAC could simply pay Viacom back for its contributions. Viacom might still balk at the arrangement, but then Colbert's beef would be with them, not with the FEC.
Watch Colbert PAC's ad ostensibly supporting Pawlenty:
Watch Colbert's appearance at the FEC on May 13, shot by HuffPost's Brad Shannon:
*************************
Popular in the Community