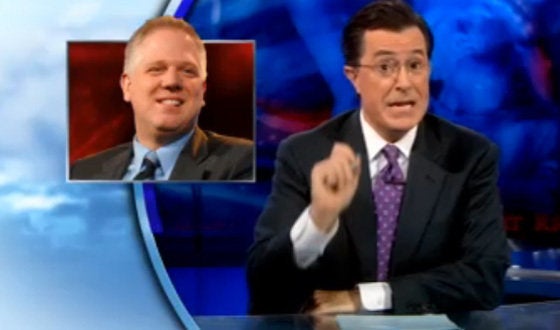 Colbert dedicated a substantial chunk of his show last night to mocking Glenn Beck, who recently justified planning his rally on the exact date and location of Martin Luther King's "I Have A Dream Speech."
Joked Colbert: "Finally, someone is bringing "Martin Luther King's movement back to its conservative white roots."
Responding to Beck's claim that it was "divine providence" that his event landed on the same day, Colbert said, "Personally, I take everything Glenn says on faith...because there's never any evidence to back up his claims."
But what really caught Colbert's attention was Beck's long-winded tale about being approached at the Vatican by unnamed man, who praised the Fox News personality for his contributions to society. Luckily for us, Colbert tracked him down, and it was none other than Father Guido Sarducci, the chain-smoking priest played by comedian Don Novello.
Turns out he did in fact say his work was wildly important. The only problem? He thought he was talking to Jeff Beck. That guy can wail.
Related
Popular in the Community