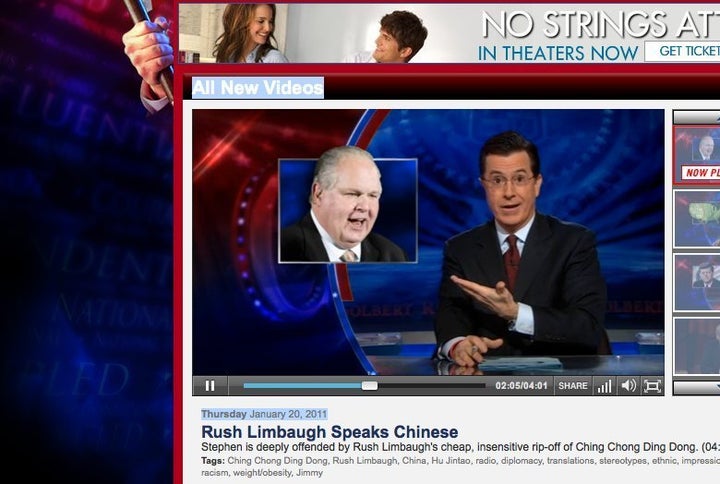 It's not often that you catch Stephen Colbert disagreeing with the man with the golden mic, but on Thursday night's "Report," Colbert said he was 'deeply offended' by something Rush Limbaugh did recently -- but not for the reasons you'd think.
Firstly, why did the coverage of visiting Chinese president Hu Jintao's speech upset "talk radio's #1 man dumpling"? Limbaugh said he was frustrated because Jintao wasn't translated in real time, saying "I can't comprehend anybody understanding it."
"Who on Earth can understand that Kung Pow jibber-jabber?" Colbert said. "Off the top of my head I can only think of 1.5 billion people."
But when Limbaugh started doing an offensive, jibberish impression of the Chinese President, Colbert really got offended. It's not that Colbert is concerned about offending Chinese people, but realized Limbaugh's impression was a "cheap insensitive rip-off" of Colbert's own ridiculous Chinese impression, "Ching Chong Ding Dong."
Watch the segment below to fully understand Colbert's outrage, and hear Limbaugh's other, equally offensive impressions of black people and those with Parkinson's disease.
Popular in the Community