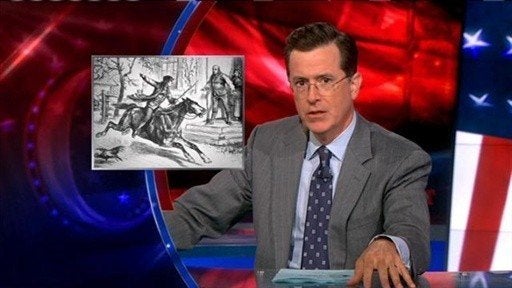 Say what you will about Sarah Palin, she's got to be doing something right to inspire such intense support. She's so beloved by her fans, in fact, that when she gets her American history facts wrong, they simply decide it's best to change history so that she becomes retroactively correct.
After her now infamous, "ringin' those bells, ringin' those bells," statement, Palin supporters went on Wikipedia and altered Paul Revere's entry so that it reflected her embellishments to the story. Meanwhile, Palin herself has stridently defended her bells-and-warning-shots version of history, taking the celebrated GOP strategy of framing the debate a step further by framing the facts, which we weren't aware you could do.
Of course, Colbert is always ahead of the curve and he totally gets it. He even picked up where Palin & Co. left off after they were foiled by the Wikipedia nerd police:
Unfortunately, the hardcore fact addicts at Wikipedia have undone the changes and locked Paul Revere's page. Which is why I want all of you to go to the Wikipedia page for "bells" and make sure it reads, "Bells: Used by Paul Revere to warn the British that hey, you're not going to succeed in taking our guns. USA! USA!"

And in an act of devotion not dissimilar to a Palin supporter, Colbert Nation responded within a minute.
Watch the whole clip below which culminates in Colbert showing exactly how Paul Revere could have accomplished riding a horse, firing and reloading a musket, and ringing a bell all at the same time.
Support HuffPost
The Stakes Have Never Been Higher
Related
Popular in the Community