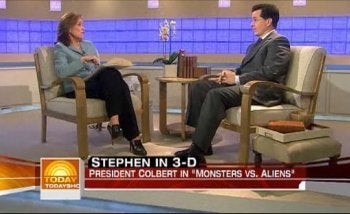 Colbert was on the show to discuss his upcoming film, "Monsters and Aliens." He chatted with Vieira for a while doing his usual schtick (hating on Lauer, asking Meredith if she's been paying attention during the interview) until our host tried to make a smooth transition to an upcoming segment on Twitter by asking Colbert if he'd ever tweeted. He responded "I have twatted."
A shocked Vieira muttered, "Oh my gosh. Well, actually, so have I." Which sounds kind of dirty considering she realized his transgression. The folks behind the scenes crack up and you can hear Vieira saying "oh my god" as they go to break. It's no Jane-Fonda-saying-the-c-word, but it made us chuckle.
Send us tips! Write us at tv@huffingtonpost.com if you see any newsworthy or notable TV moments. Read more about our media monitoring project here and click here to join the Media Monitors team.
Calling all HuffPost superfans!
Sign up for membership to become a founding member and help shape HuffPost's next chapter