The co-hosts of Fox News' "Outnumbered" were recently very critical of a new policy by the U.S. Citizenship and Immigration Services (USCIS) that extends the definition of "mother" and "parent" to include someone who might not have a genetic relationship to the child.
According to the decision, women who use a form of assisted reproductive technology (ART), like an egg donor, would still be able to give their U.S. citizenship to the child. Fox News contributor Pete Hegseth slammed the ruling on air, calling it "a total erosion."
And now Stephen Colbert is chiming in as well. And guess what, he totally agrees.
"It's a total erosion," Colbert said jokingly. "All of us know that citizenship is genetic! And as a Christian, I believe 'American' begins at conception."
Colbert then went on to cheer the classic "USA" chant with a slightly new, Fox News-inspired twist:
"UterUS-A! UterUS-A! UterUS-A!"
But for Colbert, there's something even worse than women becoming pregnant overseas and passing on their American citizenship.
"I'm scared this law could inspire a whole generation of American women trying to cash in by moving abroad and carrying anchor zygotes," he said.
Related
Before You Go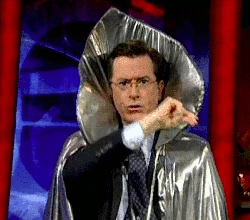 Stephen Colbert GIFs
Popular in the Community