On Thursday's "Report," Stephen Colbert took a moment to talk about Congressman Steve King of Iowa, who seems to keep making headlines for his tone-deaf comments on immigrants.
Case in point, last year he took a lot of heat for comparing immigrants to dogs. Of course, King didn't understand what all the hubbub was about, he meant it as a compliment.
Looks like the GOP's outreach to Latino voters is going just great.
Watch Colbert layout the controversy, and straight-up call King a tool, in the clip above.
Related
Before You Go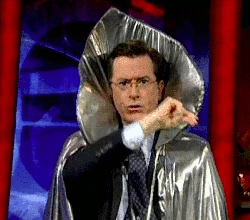 Stephen Colbert GIFs
Popular in the Community