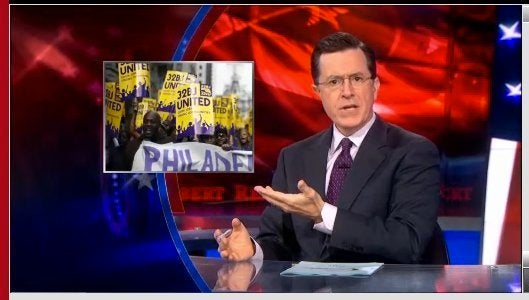 Stephen Colbert has called us losers. He got us (and 999 other fan groups based at universities) to buy his Super Fun Pack, filled it with what seemed like a series of gag items, and then asked us all to solve an extremely complex treasure hunt. If we solved it, we would get him to visit our school. So, even though we weren't exclusively interested in the treasure hunt part of the game, of course we wanted first prize.
Colbert's call to expand the Colbert Super PAC empire led one of us (Remy) to immediately order a pack for Penn State. You can read about her experiences here, here, or here.
From the start, the Super Fun Pack was an enigma. On the one hand, it held a series of seemingly random, silly objects that reinforced the idea that The Colbert Report is a comedy show, that its primary goal is to entertain, and that its main demographic is college-aged kids. The fun pack included:
the FEC filing form & cover letter
a Super PAC Instruction manual
an allen wrench
a Turtles Don't Like Peanut Butter T-shirt
a dorm room sign
Colbert Super PAC tube socks
the Forbes 400 Richest People in America List
an "Actual Treasure Map...to Actual Treasure"
a decoder ring
"Hamlet Rove" (16-ounce personal canned ham adviser with custom stickers)
an American flag
a "Trevor, May I?" button
A "Turtles Don't like Peanut Butter" T-shirt is just goofy, right? But, on the other hand, the fun pack included FEC Form 1, the only form necessary for the creation of a Super PAC, as well as a handbook from former FEC chairman and Colbert's personal lawyer, Trevor Potter, guiding us in the completion of the form. This was serious business. Follow these simple steps and you, too, can influence the political process, take unlimited donations, and run political ads. Within weeks, we'd be receiving ominous letters from the FEC and the IRS.
While not all of the groups that received their PAC pack did file paperwork, a lot did. Enough to make the news and to begin to cause a stir. Some of the groups include Texans for a Better Tomorrow, Tomorrow, as well as ours, Penn Staters for a Better Tomorrow, Tomorrow, and many of the Colbert PAC spawn have continued to make the news.
Meanwhile, as the news media was perplexedly covering the rise of Colbert Super PAC spin-offs, there was that pesky treasure hunt to solve. Certainly, we all wanted to solve it, since it would mean a visit from the man himself at our campuses. But, it turned out that the treasure hunt was bafflingly complex. And, upon reading the official rules, it became evident that it would require physical travel -- something that had not initially occurred to us -- and perhaps therefore more time and energy than we could really devote to what felt a little like a fool's errand. And, despite investing a significant amount of time and energy into it, we seemed to be making little progress. We kept asking ourselves why Colbert would want us to spend so much time on this puzzle? What could be the point? And what was the link between founding a Super PAC in three easy steps and solving a treasure hunt that cost exponentially more time, energy and money? While we were busy puzzling over this question, though, PITT PAC was heading to Illinois to find a fake log. Should you imagine that this was in any way a simple or obvious solution, here's the video of Peter Gwinn explaining how to find the treasure:
We may not have figured it out, but we know we are not unintelligent or lazy. That treasure hunt was complex, and reveals Colbert's inner Dungeons & Dragons-obsessed nerd. As we puzzled over our loss and congratulated the PITT PAC team, we couldn't help but wonder about the big picture of the riddle of the super fun pack. Why such a complex treasure hunt bundled with such a simple path to political action? Was the treasure hunt completely unrelated to the founding of student run Super PACs? Why is it so much harder to get Colbert to come to our school than it is for us to influence the election?
That, we think, is the answer to the riddle. The treasure hunt required a team effort, paying attention to a series of clues, not ignoring things that were confusing or seemed out of place, and, most importantly, it required perseverance. Founding a Super PAC required none of that.
And therein, of course, lies the problem. For a democracy to survive, it also requires a team effort, paying attention to everything, not ignoring problems that are troublesome or confusing, and perseverance. The contrast between the effort necessary to start a political action committee with essentially no rules or oversight and the effort it would require to decipher the treasure map was stark and shocking. We had even enlisted the aid of lawyers, expecting to face some difficulty navigating the FEC's red tape, but ended up having a great deal more difficulty with the treasure hunt map. The hardest part of founding our PAC was setting up a bank account at a banking institution that had never heard of this kind of non-interest bearing account. And yet, some of the items in the fun pack -- like the American flag, which is both a symbol of our government and a clue for the treasure hunt -- subtly connected the two, seemingly divergent paths. So subtly that we didn't notice, and it prevented us from solving the riddle.
Going after a 101-year-old silver turtle in the hopes of winning a visit from Colbert to campus is, to misquote Robert Wexler, purely "a fun thing to do." But, as Colbert shows us night after night on his show, engaging in politics can be fun even though the stakes are high. There is no reason why we can't enjoy ourselves while we make a real impact on the campaign and take back the reins of our democracy. Ironically, all we need to do is to start using the very system that favors corporations to demonstrate its fallibility. We are hoping that each of the Colbert-inspired campus based Super PACs will use their power to push back on the Super PAC system itself. And we hope that, even if they don't do that, the students Colbert influenced in this process will recognize that it will be easier for us to make a difference in this election than it was for us to use an IKEA allen wrench on a fake log hidden at a bathhouse near Reagan's birthplace.
Make no mistake, Mr. Colbert, we're gunning for second prize, and we're not alone. A secret league of heavy-hitting PACs is forming as we write this, and we are up to no good. We'd tell you more, but we don't have to, so we won't. Don't blink, America, or by the time you refocus your eyes, we just might have pulled the 2012 elections right out from under your feet. We may not have been diligent enough or creative enough to have solved the treasure hunt, but Colbert has taught us that we have all the skills we need to influence the 2012 election. And that's why second prize may make us all winners after all.
Calling all HuffPost superfans!
Sign up for membership to become a founding member and help shape HuffPost's next chapter