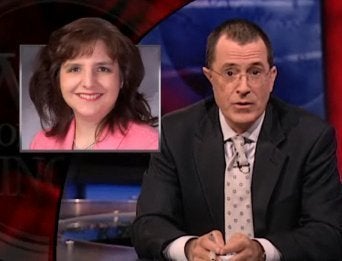 Missouri State Representative Cynthia Davis is one tough cookie. Last week she opposed subsidizing school lunches for low income children during summer months saying, "Hunger can be a positive motivator." This is excellent news considering 1 in 5 Missouri kids is living in hunger, so that state is due for a productivity boon.
Stephen Colbert tipped his hat to Rep. Davis last night, applauding her decision, but worrying that she never rose above the rank of state representative because she developed the anti-motivating habit of eating. He called on Missourians to help her by denying her food whenever possible. That should give her her edge back.
Colbert went on to wag his finger at Fox News for identifying Mark Sanford as a Democrat in their chyron. He understands that it is a natural response to assume anything bad that happens is the fault of a liberal, but agrees with Peggy Noonan that we should all be blaming one liberal in particular: Bill Clinton.
Popular in the Community