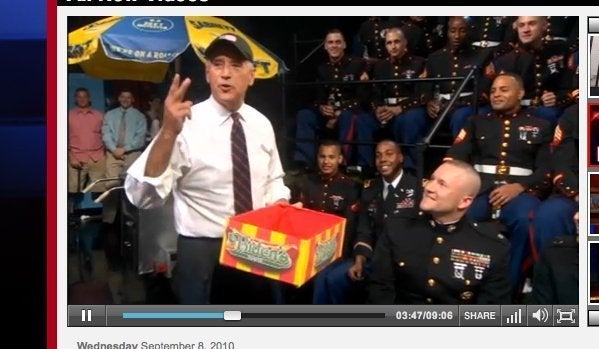 There was a special episode of "The Colbert Report" last night, where Stephen Colbert honored the troops home from Iraq and even got some help from Vice President Joe Biden. With the audience filled with military personnel and a live feed to the non-combat troops still in Iraq, Colbert commemorated the withdrawal better than any "mission accomplished" banner could.
"It's been seven years," Colbert said. "At this point who can remember who invaded who?"
Colbert lavished the soldiers with all the American amenities they've been missing, even going so far as to line the studio with real, live grass. Beer was brought out by pretty girls, Colbert introduced the soldiers to the greatest toilet on Earth, and to top it off, Vice President Biden served hot dogs to everyone in attendance. It was definitely a big f***ing deal.
Colbert went on to list all the times the Iraq war has "over" before, from the falling of the statue of Saddam Hussein, to the Iraqis proudly displaying their purple voting fingers. Colbert even got some help with the subject from "Conflict Analyst" Yogi Berra.