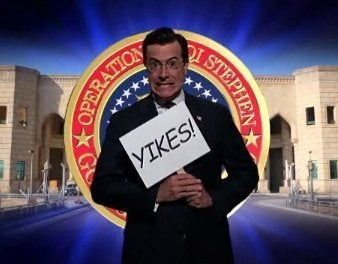 Last night Stephen Colbert performed his first of four shows from Iraq in front of an audience of over four hundred troops. It included shout outs from President Obama and Senator John McCain, a cold open that detailed his journey to the Middle East, and Colbert's best haircut to date. Oh, yeah, and he declared victory saying, "By the power vested in me by basic cable, I officially declare we have won the Iraq war!"
Last week, Stephen Colbert deployed to Iraq for a USO tour entitled "Operation Iraqi Stephen: Going Commando," and if last night's opening holds any truth (it doesn't) the trip over was bumpy at best.
In it, Colbert showed pre-taped video of himself getting called "fatty" and kidnapped by the U.S. armed forces. He was put on a plane to the Persian Gulf without any idea which country he would end up in (good thing Iraq had a pre-built "Colbert Report" stage lying around!) and forced to endure non-Kosher meals. He was, however, able to cross "Margaritaville" off the list of his possible destinations when he was told his hotel was not allowed to serve liquor.
When Colbert finally arrived in Iraq, he was given a traditional greeting.
Colbert then explained what an honor it was for the troops to have him there in Iraq: "A country so nice we invaded twice." He gave the troops a shout-out from John McCain, one of many politicians and celebrities who have taped segments for these episodes.
Colbert then moved on to his segment "The Word," which last night begged the question, "Why are you here?" He claimed the reason was medical (his doctor said he wasn't getting enough dust) and his love for the troops. The first was obviously a joke, but the latter is very true. Colbert has raised hundreds of thousands of dollars for the Yellow Ribbon Fund (a charity that assists injured service members and their families), according to the Associated Press. And in an interview last week he said, "Sometimes my character and I agree. My character and I both know the Apostles' Creed and my character and I both think it's a shame that we're not talking about the troops anymore."
Colbert then showed the troops and his viewers at home his grueling basic training process that took up to ten hours. He came armed with a loofah, a poster of the Jonas Brothers, and chapstick. It did not go well.
Finally, Colbert hosted General Ray Odierno, commander of the Multi-National Forces in Iraq, last night, who enforced President Obama's orders to shave Stephen's head, after the Commander-in-Chief appeared on the show and dressed down everyone's favorite blowhard.
Support HuffPost
The Stakes Have Never Been Higher
Related
Popular in the Community