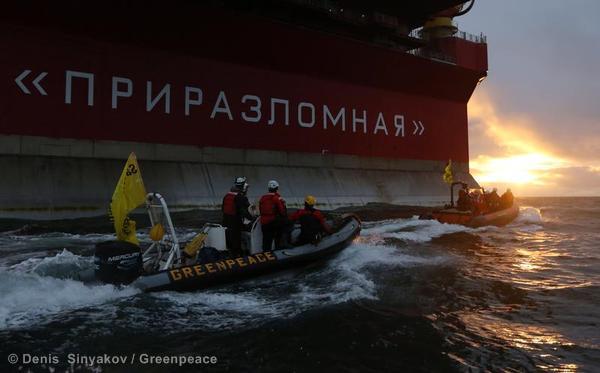 When I spoke to my friends and family this weekend I was unanimously scolded. After Friday's 15-hour occupation of Gazprom's Prirazlomnaya oil platform in the Pechora Sea, they all said "you're getting too old for this!" With blue hands and feet from the cold, and in the midst of being treated by our ship doctor Marcelo for hypothermia, for a moment I thought they could be right.
But then I returned to the spirit on board our ship the Arctic Sunrise; the eager faces of my fellow activists Sini, Jens, Lars, Basil and Terry, the determination of our Captain Vlad, and the rest of the committed crew who were standing up for what they believed was right. Coming back to this I knew that the risks had been worth it.
For me, an action like the one we've just completed in the Arctic is Greenpeace at its best. Teams united in the one goal, taking a risk to confront dangerous industry at the frontlines of destruction, shining a light on an environmental crime that happens out of the sights and minds of most regular people.
I've been an activist since the age of 15. I've seen the inside of a prison cell for the cause, but nobody -- even with experience -- can honestly say that there is no fear when you set out to take action involving risk to personal safety, or the risk of imprisonment. We were feeling it acutely in the days preceding the action as we traced through our different scenarios and plans. But I felt encouraged, we gave each other confidence.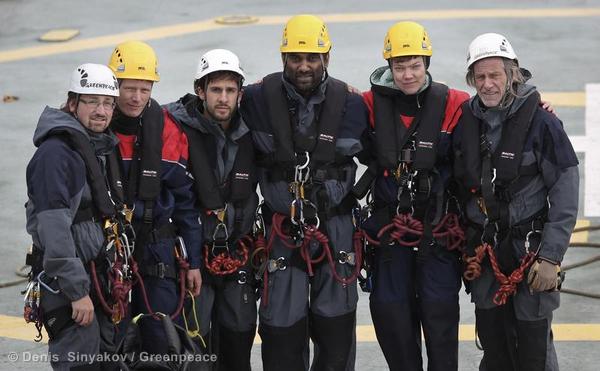 And then our time came. We sailed early morning towards Gazprom's oil platform, and soon some of my worst fears came true. During my first attempt to climb, I got knocked off course by a big swell and did not make it up. I spent several minutes in the icy water fighting with the rope. Defeated and fighting the cold, I had to retreat to the boat.
My fellow activists were now 15 metres above me and I sat there, confidence shaken. Jono, an experienced climber and Sunrise crewmember, came to the boat to talk me through it. He checked all of my gear, made sure everything was in place. "Don't rush," he told me. "Take your time. You're going to be fine."
And as we spoke and I thought of our task, I stepped up again. The platform crew had already begun rocking the ropes and spraying us with icy blasts of water, but I had to make it up there.
As I climbed, I kept my eyes locked on Basil and Terry. They were coaxing me: "You're almost there! One step at a time -- that's it!" Finally, I made it. I looked out towards the Arctic Sunrise, three miles away, and above me to the pinnacle of this monstrous platform. Elated, I was suddenly struck by our task -- the reason why we were there.
Our children's future is at stake. We have a responsibility to future generations. We need people now to wake up to taking responsibility for our planet.
I thought of the Indigenous Peoples of northern Russia, who I'd spoken to the week earlier. I thought about the way their land and culture and way of life has already been negatively impacted by the oil industry. It moved me to speak with them, and I felt the helplessness that they must feel.
In many way's it's already too late, especially given yesterday's news about the melting rate of Arctic sea ice. Time really is running out.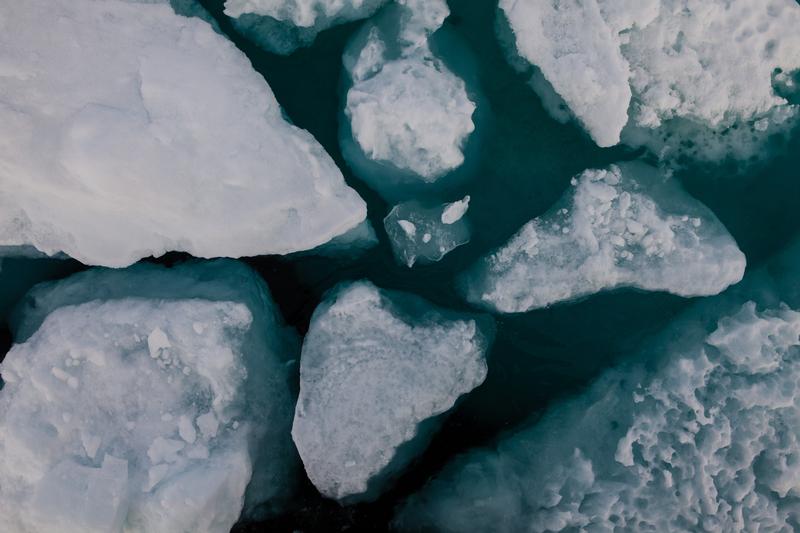 Another thing about standing face to face with a monstrous oil platform is sheer human might. If nothing else, these constructions are incredible feats of engineering, and if you think of the human and financial resource that goes into building one, you can't help but think of what could be if the same energy was put into clean, renewable alternatives.
Looking up at the workers on the platform, it was clear that many of them agreed with us. Many of them spend long weeks away from their families and loved ones doing risky work just to earn a living. They offered lots of 'thumbs up' and peace signs. One worker, who was (presumably) ordered to spray us, stopped to ask us if we were ok. There were a few who threw objects at us, but certainly not the majority.
Like us they're also being held hostage to the fossil fuel industry. Like us, they do not have access to options, and this is what we're setting out to change. Perched on this platform as we were, the level of arrogance and denial of science in government and industry astounded me. And so I write to you today not as the Executive Director of Greenpeace International, but as one of a team of activists who stood up to say No to a Russian oil giant determined to destroy our fragile Arctic.
Our campaign is far from over, and our resolve is strengthened from this experience. I've been inspired by the tenacity I've seen around me this week, the endurance in the face of adversity, and the willingness of decent people to put their bodies in the way of destruction. The next stop for the Arctic Sunrise will be to the edge of the Arctic sea ice to document its disappearance. There we will continue bearing witness to environmental injustices while mobilising the world to join with us.
To date nearly 2,000,000 people have pledged to fight the Arctic fight with us, we encourage millions more. I thank you for your continued support. Without you we couldn't do the work we do, and together I look forward to working with you again in the future.
If you have thoughts or comments on this action, we'd love to hear. What would you do to protect the Arctic?
Calling all HuffPost superfans!
Sign up for membership to become a founding member and help shape HuffPost's next chapter