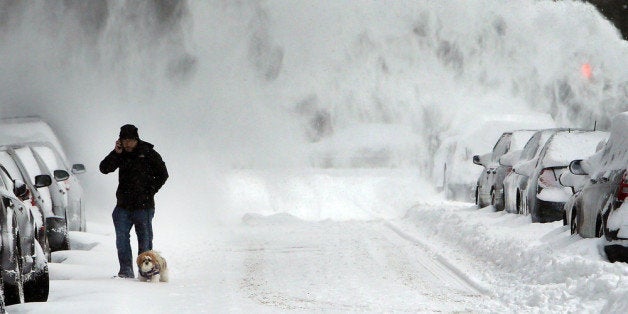 (Adds power outage in Canada, NFL games, chicken soup)
NEW YORK, Jan 4 (Reuters) - Many parts of the U.S. Midwest braced for a blast of Arctic air this weekend that could bring some of the coldest temperatures in two decades before advancing to the Northeast, where residents are still digging out from a deadly snowstorm.
Starting Sunday, the deep freeze will be felt in the northern U.S. plains, including North and South Dakota, and through the Great Lakes region and Ohio Valley, according to the National Weather Service.
It will be some of the coldest weather to grip the region in two decades, with blizzard conditions expected in the Central Plains and Great Lakes regions, forecasters said.
"The last really big Arctic outbreak was 1994," said Bob Oravec, a forecaster with the National Weather Service. "Outbreaks like this don't occur every day."
In northeastern Canada, about 110,000 customers were without power due to a transformer fire on Saturday linked to heavy snow, government officials and Newfoundland and Labrador Hydro said.
The push of Arctic air could bring record low temperatures from Montana to Michigan, before moving the Northeast, where it will arrive by early Tuesday, forecasters said.
Temperatures in Chicago could drop to about minus 20 (minus 29 Celsius). Pittsburgh could see temperatures about 11 degrees below zero Fahrenheit (minus 24 Celsius) by early Tuesday.
Temperatures were forecast to fall to 30 below in parts of the north central United States early Sunday morning, and in Grand Forks, North Dakota, wind chills were expected to exceed 50 below. A high of 19 below is forecast for Sunday.
"You grin and bear it and bundle up," said Rachel Osowski, a clerk at Hugo's Supermarket in Grand Forks. "You have to survive and function, you can't let the weather stop you."
In such conditions, frostbite can set in on exposed skin within five minutes, forecasters warned.
Preparing for the dangerous weather, officials in several states asked residents to use extra precautions when outdoors.
Minnesota Governor Mark Dayton has ordered all public schools in the state closed on Monday to protect children from dangerously cold weather.
Chicago schools will be open Monday despite the cold but officials advised parents to "use their own discretion in deciding whether to send their child to school."
In Pittsburgh, the transition team for Mayor-elect Bill Peduto said his inauguration ceremony on Monday would be moved from the steps of the local government building to an indoor venue because of the weather.
Officials in Kentucky, which could see up to 8 inches (20 cm) of snow and freezing temperatures, were warning people to avoid road travel and stay indoors.
"If you don't need to be out, stay in, stay home," said Buddy Rogers, spokesman for Kentucky Emergency Management.
Schools will remain closed in Nashville, Tennessee, until Wednesday, a day after winter break was supposed to end, local officials said.
The storm comes on the heels of a massive weather system that slammed the U.S. Midwest and Northeast just after New Year's Day, causing several deaths, grounding thousands of flights and forcing schools and government offices to close.
At the Best Western motel in Bemidji, Minnesota, some drivers stopped for the night because of the cold, connecting their cars to special heaters to keep the engines from freezing, said motel manager Monica Horn.
A total of 1,266 flights were canceled across the United States and 6,036 flights delayed on Saturday, with Chicago's O'Hare International Airport and Newark Liberty International Airport in New Jersey among the most affected, according to tracking firm FlightAware.com.
Molly Cox, in New York City for New Year's Eve, said she missed her Friday night flight home to Denver because LaGuardia Airport was "a disaster."
"With all the cancellations, all of the airlines seem to be having this kind of chaos," she said.
Boston was especially hard-hit by the first major storm of 2014, logging about 18 inches (45 cm) of snow on Friday, while some towns north of New England's largest city were dealing with close to 2 feet (60 cm) of accumulated snow.
But life has begun to return to normal in Boston. The city lifted its snow emergency at 5 p.m. on Friday.
New York City got about 7 inches (18 cm) of snow on Friday and was slammed with overnight air temperatures hovering under the freezing mark. Washington received more than 2 inches (5 cm) of snow in the storm, Philadelphia roughly 5 inches (13 cm) and Hartford, Connecticut 7 inches (18 cm). (U.S. snowfall: link.reuters.com/zym75v)
FOOTBALL AND CHICKEN SOUP
In Green Bay, Wisconsin, the temperature plummeted to minus 18 degrees Fahrenheit (minus 28 C) on Friday, breaking a record for the date set in 1979, according to the National Weather Service.
With the new frigid air moving in, a National Football League wild card playoff game between the Green Bay Packers and the San Francisco 49ers on Sunday at Green Bay's Lambeau Field was expected to rank among the coldest matches on record, local officials said.
Some 40,000 tickets to the game have been sold, according to the Packers.
High-tech equipment, vigilant medical care and perhaps even chicken soup will be on tap to combat the Arctic conditions, Dr. Matthew J. Matava, head team doctor for the St. Louis Rams and president of the National Football League Physicians Society, told Reuters.
"A lot of sidelines will have warm chicken broth available. It tastes good, it's going to be warm and help warm them internally. It contains electrolytes and the sodium chloride (salt) helps replenish electrolytes you lose in sweat," Matava said. (Additional reporting by Kevin Murphy in Kansas City, David Jones in Newark, New Jersey, Daniel Lovering in Boston, Dave Warner in Philadelphia, Tim Ghianni in Nashville, Karen Pierog in Chicago and Larry Fine in New York; Editing by Alex Dobuzinskis, Nick Zieminski, Gunna Dickson and Dan Grebler)
Calling all HuffPost superfans!
Sign up for membership to become a founding member and help shape HuffPost's next chapter