Second only to gigantic zits, cold sores rank high on our list of embarrassing skincare issues. The small blisters, which appear on the lip or around the mouth, are usually caused by herpes simplex virus Type 1. An outbreak may occur when you're stressed, sick or been exposed to the sun.
Covering cold sores with face powder or concealer seem like swift and simple solutions, but the sore skin doesn't make a good base for makeup. "Since it's a blistering disorder, the skin surface is broken and fluid leaks out and crusts over," according to Dr. Rebecca Baxt, a board-certified Manhattan and New Jersey dermatologist. "Makeup won't cause it to get worse, unless you are allergic to it, but it won't help."
But before you decline any spring soiree invites, check out the five cold sore treatments Dr. Baxt does recommend, particularly for when you're short on time.
Cortisone injections:
This method is for patients who want to look better super fast and can manage to get a last-minute appointment with a physician. "Injecting diluted cortisone into the cold sore can bring the inflammation down quite rapidly," says Dr. Baxt.
Prescription pills:
If you are afraid of needles, phone your doctor and ask him or her to call in a prescription for Valtrex, Famvir or Acyclovir. These antiviral medications will slow the spread of cold sores and fight off infection.
Abreva:
You've probably seen a commercial for this over-the-counter medication at least once in your lifetime. Though the ad sheds light on the embarrassing side effects of herpes simplex virus-1, Abreva is known for quickly reducing the size and pain of cold sores. Plus, it makes it easier to apply makeup on top.
Just be sure to use clean brushes or sponges when concealing cold sores. Lightly dab product onto the infected area to avoid a cakey finish. Wearing lip gloss or lipstick is okay, however we recommend applying with a Q-tip.
Visine:
If you can't make it to the pharmacy, you can try the old-fashion remedy of Visine. The popular eye drops also work wonders to take the red out of cold sores.
Cold compress:
Another alternative treatment for cold sores is to apply a cold compress (or tea bags) directly to the area for 20 minutes. This will reduce swelling and redness. A Tylenol or ibuprofen will also aid in pain relief.
Do you suffer from cold sores? What do you use to take the red out? Tell us in the comments section.
We've heard of some pretty strange skincare treatments: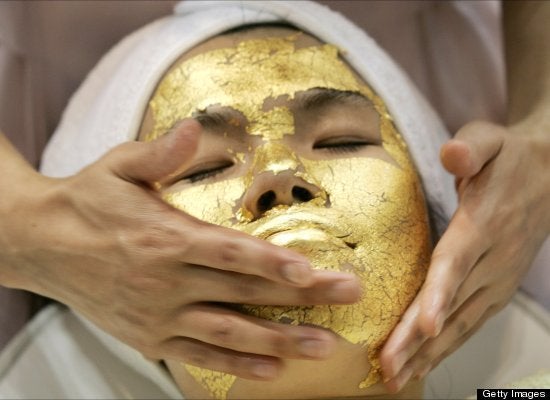 WTF Is That??
Want more HuffPost Style beauty content? Check us out on Twitter, Facebook, Tumblr, Pinterest and Instagram at @HuffPostBeauty. (For everything else check out our main HuffPost Style Twitter, Tumblr, Pinterest and Instagram @HuffPostStyle.)
---
Do you have a beauty story idea or tip? Email us at beautytips@huffingtonpost.com. (PR pitches sent to this address will be ignored.)
Related