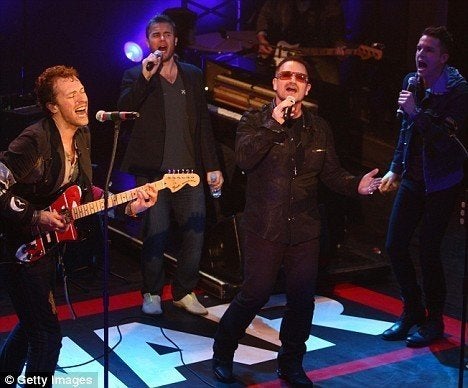 Coldplay played what the Daily Mail and Chris Martin himself dubbed the "best encore ever" Wednesday night, joined by the Killers and U2. Earlier in the evening, Coldplay lost all their categories at The Brit Awards, and then went over to play War Child charity's 15th birthday.
Chris Martin told the crowd, which included Sienna Miller, Anna Friel and No. 1 fan Gwyneth Paltrow: 'We've just got back from Japan, lost all the Brits, it's been a s**t day, but it's going to get better.'

And that it did as they performed a selection of their greatest hits, including tracks from their current record Viva La Vida Or Death And All His Friends....

'This,' Chris announced, 'is going to be the best encore you've ever seen.'

Gary Barlow emerged to perform Take That's Back For Good with Martin on backing vocals. Then U2 frontman Bono and The Killers joined in to form an impromptu supergroup for a triumphant rendition of Brandon Flowers's All These Things That I've Done.
A few lucky attendants posted the song on YouTube.
Version 1:
Another version:
Popular in the Community